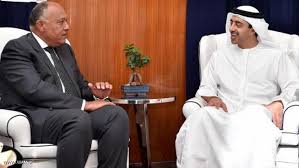 The Environment Minister Khalid Fahmy instructed the Egyptian Environmental Affairs Agency (EEAA) and the Red Sea Marine Park Authority (RSMPA) on Wednesday to clean up oil spills which repeatedly occurred and appeared on the Red Sea's Ras Ghareb beach since February 2016.
Committees of the EEAA and RSMPA surveyed the beach and discovered that crude oil spills had affected the beach, which is in an uninhabited area free of tourist activity.
The General Petroleum Company (GPC) inspected oil platforms in Ras Ghareb city and conducted an air survey to ensure that the spills would not extend to nearby beaches.
The GPC then sent a delegation specializing in combating oil pollution to clean up the oil spills and identify the source of the repeated spills, by inspecting samples taken from the affected area.
The Red Sea resort town of Hurghada been repeatedly plagued by oil spills since February 2016. Marine environment protection groups have throughout claimed that officials had not done enough to prevent pollution in the area.
Edited translation from Al-Masry Al-Youm