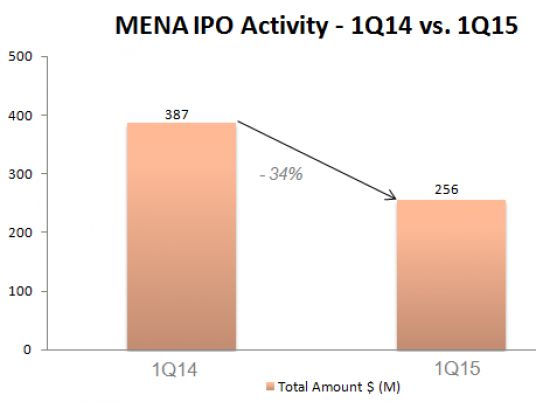 The first quarter pf 2015 ended with little progress in stock market activity, as only one IPO from Orascom Construction Limited was issued in March, together with six rights issues, according to a report written by investment expert Peter Aboud.
The report pointed out that the six rights issues went through their subscription period in March, raising a combined US$314 million, with a 53% increase from capital raised from the three issues in March 2014.
OCI NV, which separated its engineering and construction business from its fertilizer and chemicals ventures, opted for a dual listing for Orascom Construction. The first one is on Nasdaq Dubai while the second one, the public offering, is registered on the Egyptian Stock Exchange. The offering of 12.9 million shares, 11% of the firm's share capital, at $14.25 managed to raise $185 million, listed on March 11.
Aboud expected a growth in activity, with several IPOs in the pipeline in the MENA region in April, especially the planned offerings by Saudi Company for Hardware and Middle East Paper Company. Also, Daman Investments has announced its plans to go public in the coming weeks.
"In addition, Arqaam Capital has selected Rothschild as financial advisor for its public offering in H2 2015," the report read.
The Egyptian stock exchange is also expecting at least eight initial public offerings before the second half of 2015.