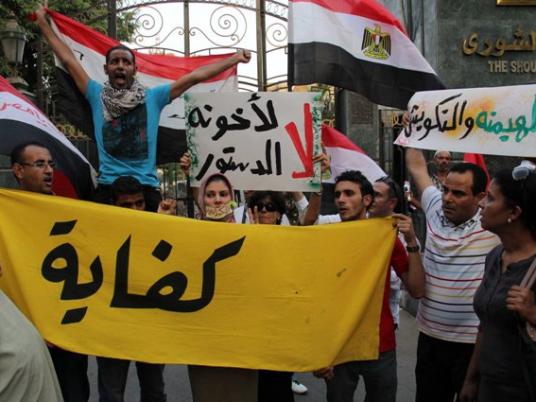 Revolutionary and leftist political groups will demonstrate in Cairo Saturday and demand the dissolution of the Constituent Assembly for not representing all Egyptian communities.
Protest organizers include fifteen different groups, including Revolutionary Socialists, the Free Front for Peaceful Change, the National Front for Justice and Democracy, the Popular Committees to Defend the Revolution, the Coalition of Egyptian Revolutionaries, the Second revolution of Anger movement, the Mina Daniel movement and the Kefaya Youth Movement.
In a joint statement, the groups said yesterday said that they also demand the dismissal of Interior Minister Ahmed Gamal Eddin and that he be interrogated about actions taken against protesters on 26 January 2011, when he was head of the Assiut Security Department, as well as his use of force in breaking up recent sit-ins.
Kamal Khalil, the founder of the Workers and Peasants party, is among those demanding a new Constituent Assembly. Khalil has also opposed what he called a "safe exit" to those who killed protesters and has called for the release of all political detainees.
Khalil refused what he called a "safe exit" to the killers of protesters and called for the release of all political detainees.
He rejected foreign loans and the intended abolish of governmental support over commodities. He also demanded that the minimum amount for wages and pensions be adjusted to LE1500 per month.
"Those who do not follow the goals of the revolution regarding social justice, do not release detained revolutionaries and are preparing to issue a new emergency law and laws restricting freedoms will not draft our constitution," Khalil told Al-Masry Al-Youm.
He added that the formation of the United Revolutionary Front, an alliance comprising all of the leftist and revolutionary parties, will be announced during demonstrations today. The demonstrations were original scheduled for Friday, but were postponed after the Popular Current alliance, headed by Hamdeen Sabahi, held a conference yesterday declaring its establishment.
Edited translation from Al-Masry Al-Youm