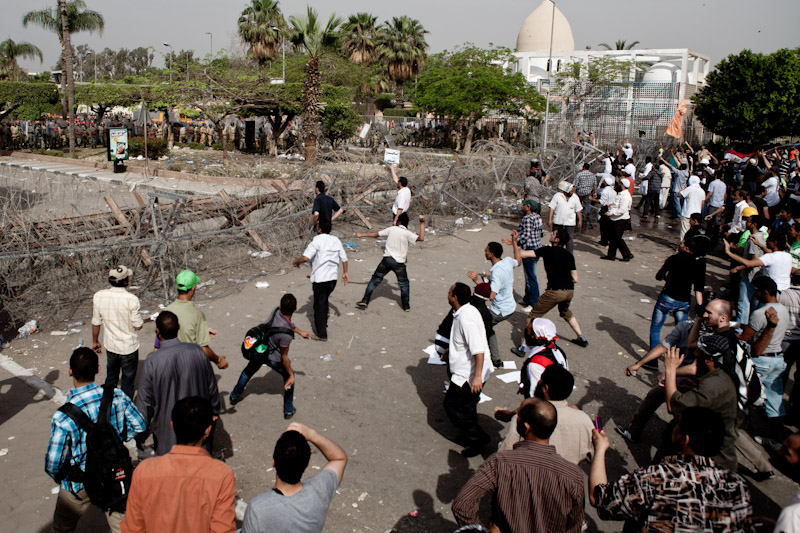 The Union of Revolution Youth has called for an immediate investigation into rumors that security authorities threatened to conduct virginity tests on women arrested during the Abbasseya clashes.
Clashes in Abbasseya took place Friday as anti-military protesters were dispersed from the area after reportedly attempting to cross the barbed wire surrounding the Defense Ministry. One soldier was killed and hundreds of people were wounded in the clashes.
In a statement published Wednesday, the union said it would be a "catastrophe" to find out that the military had once again conducted such tests on female protesters.
"Testing the virginity of Egyptian girls is a procedure we have never heard of except under the rule of the military," the statement said.
Leftist website El Badil on Tuesday reported that a volunteer paramedic who was treating injured protesters in Abbasseya on Friday alleged that soldiers threatened to conduct virginity tests on two nurses who were working with him at the field hospital.
Anas Ahmed, a student who was injured during the clashes and who is currently being treated at Qobba Military Hospital, said military police stopped him and two nurses on Friday and harassed one of the nurses. He alleged that they threatened to conduct virginity tests on the women. However, a first lieutenant ordered that they be left alone, he said.
In an interview on ONTV satellite channel, Islamist presidential candidate Mohamed Selim al-Awa called virginity tests a crime.
"Virginity tests are a crime of sexual assault on a female against her will," he said. "This is extremely disturbing news. Officials cannot remain silent about this serious accusation."
He added that such tests are prohibited by religion and law, and called on Major General Hamdy Badeen, head of military police, to appear on television to address the accusations.
Army forces are reported to have conducted virginity tests on female protesters demonstrating in Tahrir Square on 9 March.
Officials from the Supreme Council of the Armed Forces admitted the tests were carried out after repeatedly denying them. Officials said the tests were conducted to "protect the army against possible accusations of rape."
Edited translation from Al-Masry Al-Youm
Clarification: The original article has been changed to reflect uncertainty about the rumored tests.