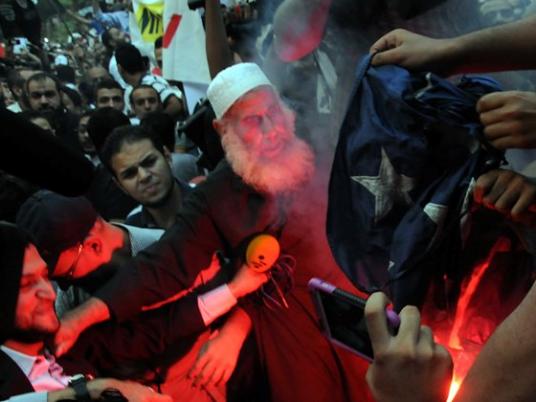 Human rights organizations have criticized the arrest of atheist activist Alber Saber.
Saber was originally arrested over claims that he published the anti-Islam film "Innocence of Muslims" on Facebook, but when it emerged that there was no evidence to support the claim, he was later charged on the basis of an atheist video that he had made.
Two days after protests and clashes between security forces and protesters broke out over the film near the US Embassy on 11 September, neighbors of Saber claimed that he shared the anti-Islam YouTube video "Innocence of Muslims" on his Facebook account, which led an angry mob to storm Saber's house in Marg district, kicking out Saber and his mother.
Kariman Meseha, Saber's mother, told journalists attending a press conference at the Association for Freedom of Thought and Expression yesterday that she called the police to protect her son, but once police arrived, it was Saber who was arrested, not those who attacked his home.
"Police forces told me that he would be taken to the police station to protect him from the angry mob, and that I could come by the police station the next day to receive him," Meseha said, adding that the next day, she discovered that he was arrested on blasphemy charges.
AFTE lawyer Ahmed Ezzat said police incited the prisoners against Saber, claiming that he was an atheist and insulted the Prophet Mohamed; one of the prisoners injured him in the neck with a razor blade.
"If the blade was sharper, it would have killed Alber," Ezzat said.
Ezzat said investigation records stated that residents of Saber's area filed a complaint accusing him of sharing the blasphemous content. Yet the records do not state clearly who had filed the complaints, which is a violation of laws that oblige someone filing a complaint to reveal their identity.
"The records also did not specifically point out what kind of blasphemous content Saber shared," Ezzat said, adding that prosecution accused him of religious blasphemy after finding a movie on a CD of Saber, including some comparative religion material, as well as criticisms of both Islamic and Coptic religious leaders and institutions.
Prosecutors did not find the blasphemous movie when they asked Saber to log into his Facebook account, but declined to mention this in the investigations records, Ezzat said.
"The prosecution decided to refer the matter to a technical committee to investigate whether Saber ever shared any blasphemous material. We welcome this decision because it will show that Saber shared nothing," he added.
The prosecution asked Saber during a 12-hour investigation about his religious beliefs. One of Saber's lawyers was kicked out after objecting to questions about Saber's personal religious beliefs, Ezzat said.
Saber was detained for four days pending investigation by the prosecution, and his detention is now extended to another 15 days, meaning it would end Saturday.
"Religious blasphemy is a loose charge. Is criticizing religions considered blasphemous? What if someone is preaching for his religion? [Wouldn't this] entail criticizing other religions? In this case, religious blasphemy would be considered a violation of freedom of religion," Ezzat explained.
Yara Sallam, a member of the Nazra Center for Feminist Studies, said that though protests against "Innocence of Muslims" spread to 15 countries and was condemned by several United Nations bodies, an international law against blasphemy is not the answer.
"Some have called for religious blasphemy to be criminalized internationally. I think this is against freedom of expression as long as blasphemy does not entail calls for violence. The best way to respond to this is to ignore such calls," Sallam said.