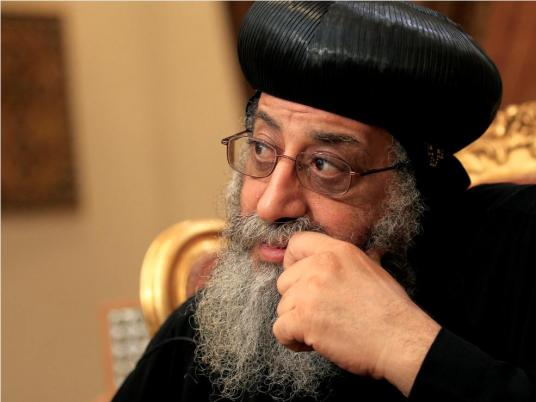 Coptic Pope Tawadros II has stressed the spiritual role of Egypt's Christian church, as the debate surrounding Copts joining 30 June protests grows.
"God is the Lord of history, the adjudicator of history and the leader of the movement of history," the pope said during a Council of Churches meeting on Tuesday.
"And the role of the church is spiritual. Taking part in social demonstrations is a personal matter."
Reverend Safwat al-Baiady, head of the Anglican Communion, said the meeting was agreed upon more than a month ago, amid speculation church officials were meeting in response to the protest debate.
"It was not an emergency meeting as such," he said. "It was a regular meeting to which public figures were invited," adding that talks were attended by Mounir Fakhri Abdel Nour, Emad Gad, Sameh Fawzy, Samir Morcos and Suzy Nashed.
Baiady admitted the meeting had dealt with media speculation that the church was mobilizing its congregation ahead of 30 June demonstrations, led by the opposition Tamarod campaign.
"We neither call for nor against Coptic Christians participating in demonstrations," he said. "It is a free choice."
"We hope the protests are peaceful," the Anglican official added. "For every drop of Egyptian blood is precious."
On the Grand Renaissance Dam controversy, Baiady said the church does not have the political clout to dissuade the Ethiopian government from building the dam on the Blue Nile.
Baiady also revealed Ethiopia's pope would visit Egypt shortly. "But the dam is not on the agenda."
Edited translation from Al-Masry Al-Youm