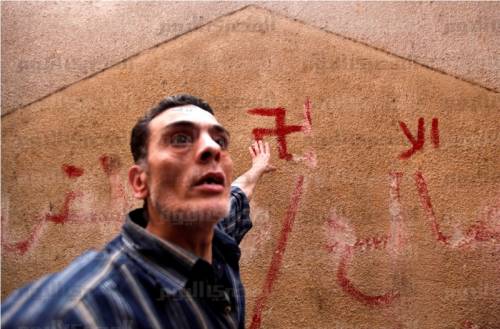 While reflecting a deep societal malaise, sectarian violence in Egypt has always been associated with political power play, particularly between the ruling regimes and active Islamist groups.
During President Anwar Sadat's rule, for example, Christians were targeted by Islamist groups, who were used by Sadat to combat leftist and student activism.
President Hosni Mubarak's rule saw Copts targeted by Islamist groups who were harshly repressed by his regime. Meanwhile, some said Mubarak mobilized state security to carry out sectarian violence to manufacture a sense of Coptic insecurity and dependency on his rule as a buttress against Islamist hardliners.
While many episodes can be attributed to the actions of ordinary people, violence against Copts has also been directed by the state. The most notable example of which is the army attack on a mostly Coptic march near the Maspero state television building in 2011.
Before this attack, many accused the state of turning a blind eye to sectarian violence. The Maspero attack represents a post-revolutionary pivotal moment, with 28 people killed — mostly Copts — marking the second deadliest attack against Copts since 81 Christians were killed in the Zawya al-Hamra neighborhood in 1981.
Trends of impunity have prevailed throughout the last two decades, whereby those behind attacks against Copts have not been identified by the country's robust security apparatus, who often cite lack of evidence. A notable example is that of the Upper Egyptian village of Kosheh, where 20 Copts were killed in an attack in 2000. A year later, most of the more than 90 defendants were acquitted.
Although concentrated in Upper Egypt, sectarian violence has traveled east and west, reaching Alexandria, Cairo, the Delta and even Sinai.
Egypt Independent presents a timeline of sectarian violence against Christians in Egypt since it first became a republic in 1952. Prior to this date and during the monarchy, sectarian tensions can be seen in the assassination of Coptic Prime Minister Boutros Pasha Ghali in 1910 amid rising nationalist voices accusing Copts of being agents of British colonialism.
Ghali was widely criticized for collaborating with the British occupiers, particularly with regard to the repression of rural dissent. Members of the Nationalist Party then called for making shoes from the skin of Christians, and in 1911 Copts organized a major conference to speak about the discrimination they faced.
This atmosphere didn't prevail for long, with a group of nationalist leaders bridging these divides and calling for unity between Muslim and Christians to end Egypt's occupation.
■1968
The first major incident of violence against Copts occurs when a group of angry Muslims attacks a church in the Upper Egyptian city of Luxor. The incident constitutes the beginning of two trends: attacks against Copts taking the form of attacks against churches and sectarian tensions being centralized in Upper Egypt, home to a large community of Christians.
The attack takes place during the time of President Gamal Abdel Nasser, whose rule has not translated into overwhelming gains to the Christian rural communities, unlike their Muslim counterparts, who benefit from land reforms. The attack also coincides with apparitions of the Virgin Mary in a Cairo church.
■1970
Sectarian violence at a Coptic graveyard in the Upper Egyptian town of Akhmim leaves one Christian dead and scores injured.
■1972
A group of Muslims set fire to the Sacred Book Association in the working-class district of Khanka, Qalyubiya Governorate, objecting to an NGO building being used for the association.
■1975
A collective attack by Muslims against Coptic property takes place in the Upper Egyptian city of Assiut, and a church is also targeted.
■1978
Islamist groups kill a number of Copts in a student dorm in Assiut, at a time when the Sadat regime has begun to back hardline Islamist groups in a bid to combat the threat of leftist and student secular movements critical.
■1980
An unknown group of assailants attack Coptic students in an Alexandria dorm.
■1981
Egypt witnesses its deadliest sectarian violence, during which 81 Copts are killed and scores of Coptic houses are burned in the working-class Cairo neighborhood of Zawiya al-Hamra. In a televised appearance, Sadat says only nine Copts were killed, while some Copts say the dead exceed 81.
The violence erupts as Muslims allege they own the 180 square meters of land that Copts in the area have used for a church. Some say the land was state-owned. Copts, however, say a Christian man owned the land and wanted to donate it for the building of a church.
■1990
Muslims attack Copts in the Upper Egyptian city of Manfalout, killing six Christians, in what has become a repeated occurrence of non-organized groups perpetrating sectarian assaults.
In the same year, agricultural land owned by a Copt is burned by angry Muslims in the working-class district of Bulaq al-Dakrour in Cairo. The attack happens after Muslims say the land was being used for a church without legal permission.
Also in 1990, in the Delta city of Abul Matameer, six Copts, including a priest, are killed in a sectarian attack. The violence erupts after the family of a murdered Muslim man named Hassan Awad accused a Coptic man of his murder.
The violence follows a period of relative calm since President Hosni Mubarak assumed power in 1981, established friendly relations with Coptic Pope Shenouda III, and launches an attack against hardline groups supported during Sadat's rule.
■1991
The Cairo working-class district of Imbaba, which has a large Coptic community, witnesses a sectarian attack by members allegedly affiliated with Jama'a al-Islamiya.
■1992
Thirteen Copts in Assiut are killed in an attack launched by members allegedly affiliated with Jama'a al-Islamiya. Another attack is reported later, in which at least 13 other Copts are killed in the same governorate.
■1994
Five monks are killed in an armed attack on the Holy Virgin Mary Monastery in Assiut, Upper Egypt.
■1997
A church in Minya's Abu Qorqas is attacked. Nine Copts are killed. Jama'a al-Islamiya is accused of perpetrating the attack.
In the same year, in the Upper Egyptian town of Nagaa Hammadi, Jama'a al-Islamiya descends on a village called Abu Daoud and fires against Copts sitting in a Christian-owned tailor shop.
■1998
Two Copts are killed in the Upper Egyptian village of Kosheh, which will later see another incident of sectarian violence. The incident, known as the First Kosheh Massacre, comes after the family of a murdered Muslim man named Hares al-Desouky Hassan killed two Copts, with the family alleging the Copts killed their relative.
Shenouda issues a statement saying the incident wasn't sectarian. Copts accuse the police of conducting wide-scale arrests against them, which authorities deny.
■2000
Nineteen Copts are killed in the Second Kosheh Massacre. Some say the violence started when a Coptic shop owner insulted a Muslim street vendor, who later called on his relatives to attack the shop owner.
About 100 people are brought to court. Only four are sentenced, receiving from two to 10 years in prison. Judge Mohamed Afify, who issues the sentences, blames the Coptic clergy for inciting the violence.
■2005
A Muslim man whom authorities say is mentally ill stabs 17 churchgoers in three churches in Alexandria. The coastal city witnesses two days of sectarian clashes that lead to three further deaths and the injury of more than 100 people.
The incident adds the cosmopolitan city of Alexandria to the list of spots hit by sectarian violence, which analysts had commonly described as being limited to areas suffering from poverty and underdevelopment.
■2008
Armed tribesmen attack St. Fana Monastery in southern Cairo over land disputes. One Muslim man is killed, four Copts are wounded and three monks are briefly kidnapped.
■2010
Six Coptic worshippers and one Muslim are killed in a drive-by shooting in Nagaa Hammadi following Coptic Christmas mass. The incident marks a new trend of Copts staging demonstrations in the streets to call for justice, as opposed to only protesting inside churches, which was usually the case previoulsy.
In the same year, hundreds of Copts clash with police after construction work on the half-built Church of the Virgin Mary and Archangel Michael in Omraneya, Giza, is halted. The incident marks the first major use of force by police against Copts. One Coptic man is killed.
Also in 2010, a group of hardline Salafis protests in front of mosques, chanting anti-Coptic slogans and demanding the release of Kamilia Shehata. Shehata is the wife of a priest who has allegedly converted to Islam and is been held in a monastery against her will.
The incident raises concerns among Salafis that other Muslim converts are held being hostage in monasteries. Meanwhile, Copts call the campaign a new wave of attacks against them.
Two Copts are killed and scores are injured. Prosecutors arrest more than 70 Copts, who are later released.
■2011
The year starts with an explosion in Alexandria that kills at least 23 Coptic worshippers during a new year's mass at Two Saints Church. The blast prompts widespread protests by Copts objecting to a lack of state protection, and many describe the attack as one of the triggers of the 25 January revolution.
In January, a policeman randomly shoots six Copts on a train in the Upper Egyptian city of Samalout, killing one man. Resulting protests lead to further clashes with the police, in which scores are injured.
In March, the first incident of sectarian violence after the toppling of Mubarak occurs when a church in Helwan, on the outskirts of Cairo, is burned by an angry Muslim mob over a romance between a Christian man and a Muslim woman. The burning of the church triggers Coptic protests.
Thirteen people, mostly Copts, are killed in Muslim-Coptic clashes in the working-class area of Manshiyet Nasser.
A few months later, 12 people are killed and 52 wounded in Imbaba, where the St. Mary Church is burned. The clashes start after a crowd of Muslims attack a church, demanding it hand over a Christian woman they believe has converted to Islam.
In October, the deadly Maspero attack takes place, in which a soldier and 27 civilians, mostly Copts, are killed as they march to the state television building in a protest calling for their right to freely build houses of worship. The violence this time is, openly perpetrated by the state, as army personnel shoot at and run over protesters with their vehicles.
■2012
Clashes between Muslims and Christians break out in Dahshur, Giza, after a Christian launderer burned a Muslim customer's shirt as he was ironing it. These are the first notable sectarian clashes during President Mohamed Morsy's term in office, breaking out two months after he is sworn in.
In September, following death threats from what are alleged to be militant groups, about nine Coptic families flee the border town of Rafah in Sinai in a rare incident of sectarian violence in the peninsula.
■2013
In April, the worst wave of Coptic-Muslim confrontations under Morsy so far erupts in Khosous village in Qalyubiya Governorate. Four Copts and one Muslim are killed.
As the mourners embark on a funeral procession for the victims for the Khosous violence at Cairo's St. Mark's Coptic Orthodox Cathedral, they are attacked by unknown assailants. Two more people are killed. Police fire tear gas at the cathedral. President Mohamed Morsy blames mourners for the violence.
This piece was originally published in Egypt Independent's weekly print edition.