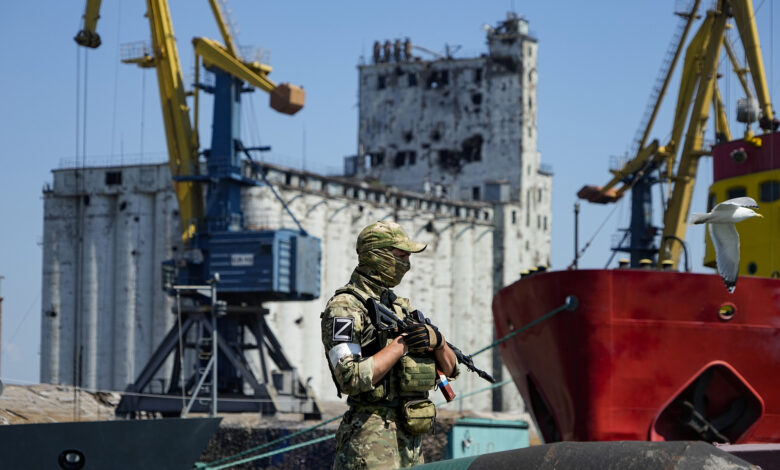 Russia says it has encircled around 2,000 Ukrainian soldiers in Donbas as it intensifies its efforts to capture Severodonetsk and Lysychansk, its defense ministry spokesman Igor Konashenkov said in a Friday briefing.
"In total, in the Hirske area, we have cut off up to 2,000 people: about [Ukrainian] 1,800 servicemen, 120 Nazis from Right Sector, up to 80 foreign mercenaries, as well as over 40 armored combat vehicles and about 80 guns and mortars," Konashenkov said, adding that 41 Ukrainian soldiers had surrendered voluntarily in the past 24 hours.
CNN has reached out to the Ukrainian military and regional administration for comment on Russia's claims — which CNN has been unable to independently verify — but has yet to hear back.
Earlier on Friday, the head of the Luhansk regional military administration conceded that Russian forces had made progress in some areas to the south of Lysychansk, namely Zolote and Toshkivka.
The Russian Ministry of Defense also said Moscow's forces had targeted five ammunition depots in the Luhansk region, adding that Ukrainian forces were seeing high levels of attrition.
"To replenish the losses in manpower, Ukrainian command are forced to form separate rifle battalions formed by untrained, mobilized citizens in each regions towards Donetsk and Luhansk," he said.
In the same area of Luhansk, the head of the Hirske military-civilian administration Оleksii Babchenko said that town had been "completely occupied" by Russian forces. The specifics have not yet been confirmed.
"Unfortunately, as of 8 a.m. today, Hirske territorial community is completely occupied," Babchenko said in a televised address. "Despite the fact that there was a very strong fortified area near Zolote, the breakthrough was made from the direction of Orikhove-Toshkivka.
"The occupation regime is currently being established.
There are about 4,000 locals left in the entire territorial community. The situation is extremely difficult: there is no electricity, water or gas," Babchenko went on to say.
"As early as Tuesday (June 21), it was impossible to reach Hirske, to deliver humanitarian aid and evacuate the population, because all roads were either not under our control, or already being fired at," he said.
Babchenko went on to say that around 60% of buildings in the town had been damaged.