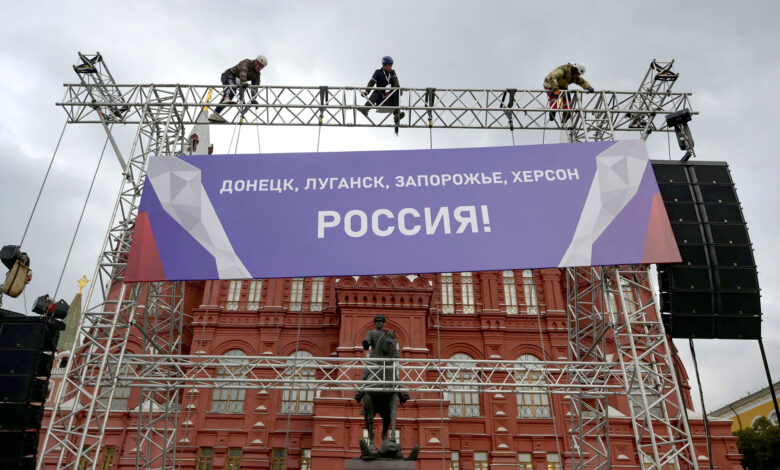 Russia will on Friday begin formally annexing up to 18% of Ukrainian territory, with President Vladimir Putin expected to host a ceremony in the Kremlin to declare four occupied Ukrainian territories part of Russia.
The ceremony will take place on Friday at 3 p.m. local time (8 a.m. ET) in the Kremlin's St. George's Hall, Putin's spokesman Dmitry Peskov said. Putin will give a speech and meet with Russian-backed leaders of the four occupied regions on the sidelines of the ceremony, he added.
The announcements come after people in four occupied areas of Ukraine supposedly voted in huge numbers in favor of joining Russia, in five-day polls that were illegal under international law and dismissed by Kyiv and the West as a sham.
The so-called referendums were organized by Russian-backed separatists in the self-declared Donetsk People's Republic and Luhansk People's Republic in the eastern Donbas region, where fighting has raged since rebels seized control of parts of Donetsk and Luhansk in 2014.
The other two areas to hold so-called referendums were Kherson and Zaporizhzhia in southern Ukraine. Russia has occupied the two regions since shortly after it invaded the country in late February. On Thursday, Putin signed decrees recognizing the two regions as independent.
Should Russia proceed to annex the territories, it would violate "everything the international community is meant to stand for," United Nations Secretary-General Antonio Guterres said.
"Any decision to proceed with the annexation of Donetsk, Luhansk, Kherson and Zaporizhzhia regions of Ukraine would have no legal value and deserves to be condemned," Guterres said. "It is a dangerous escalation. It has no place in the modern world. It must not be accepted."
Meanwhile, the European Union on Wednesday proposed additional sanctions in retaliation for Moscow's annexation plan, targeting "those involved in Russia's occupation and illegal annexation of areas of Ukraine," including "the proxy Russian authorities in Donetsk, Luhansk and Kherson and Zaporizhzhia and other Russian individuals who organized and facilitated the sham referenda in these four occupied territories of Ukraine."