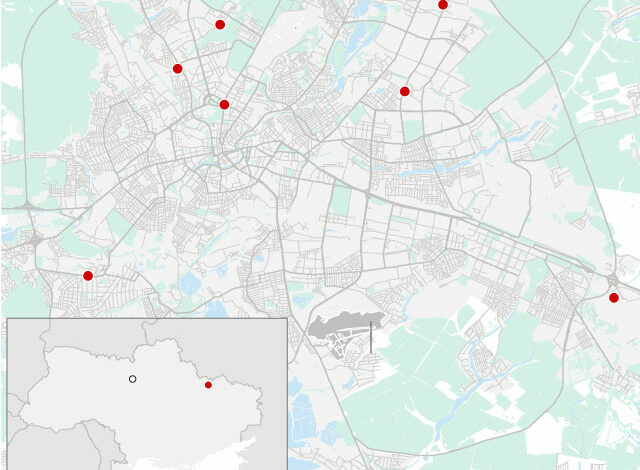 Three schools shelled, one of them with a gaping hole on the side of the building. Multiple rockets raining on panicking shoppers outside a supermarket. People walking through a park forced to rush to safety as shells explode around them.
These were some of the attacks that residents of Kharkiv, Ukraine's second-largest city, endured in recent days as Russian forces targeted residential areas, hitting civilian infrastructure such as schools, shops, hospitals, apartment blocks and churches.
CNN has geolocated and verified 13 incidents involving civilians over the past three days, as attacks intensified on Kharkiv, a city of about 1.5 million people. following Ukraine's resistance.
Most of the attacks took place in the northeastern part of Kharkiv in the residential area of Saltivka. But other districts in the northwest, southeast and southwest of the city were also affected. The city's Freedom Square, the center of public life in Kharkiv, was hit with was believed to be a cruise missile, an adviser to Ukraine's interior minister said.
In 24 hours, 34 civilians were killed and 285 injured — including 10 children — in the Kharkiv region, the Ukrainian State Emergency Service said on Thursday morning.
As the Kharkiv offensive ramped up, the prosecutor of the International Criminal Court (ICC) in The Hague announced on Wednesday that he had launched an investigation into alleged war crimes and crimes against humanity committed in Ukraine.
Ukrainian President Volodymyr Zelensky referred to Russia's relentless bombardment of Kharkiv, including the deliberate targeting of residential areas with "jet artillery," as a "war crime" in a late-night address on Monday.
CNN has analyzed and verified digital evidence, including videos and photos, of several indiscriminate attacks in Kharkiv.