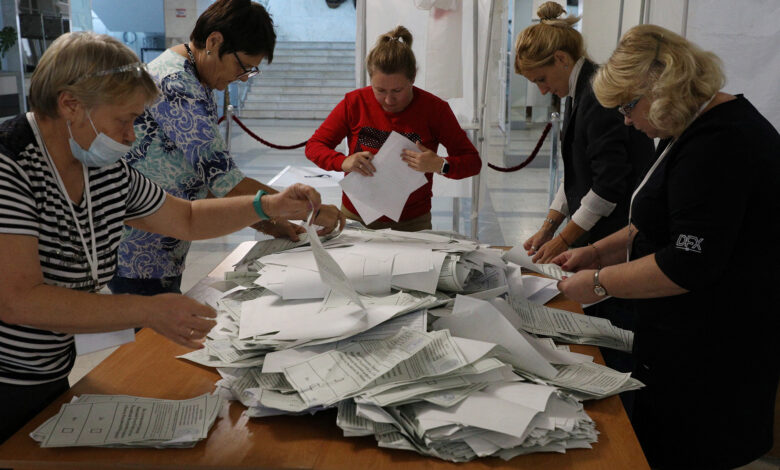 Pro-Russian authorities have held so-called referendums in four regions of Ukraine over recent days and, while the votes are illegal and have been universally dismissed as "a sham" by Ukraine and Western nations, there are fears that they could create a pretext for a new, dangerous stage in the war.
They come with the seven-month conflict at a tipping point. Rapid counterrattacks by Ukraine have dramatically swung momentum on the battlefield away from Russian leader Vladimir Putin, who is expected to escalate his country's invasion in response.
That means the "votes" – and the bogus results that Russia and its local allies have claimed – are an important step in Russia's faltering effort to seize control in Ukraine.
What comes next for these regions? In terms of international law, the referendums will achieve nothing because the global community is steadfastly refusing to accept them.
But back home, Russian President Vladimir Putin will be able to claim that the will of occupied Ukrainians is to belong to Russia – thereby giving some false pretext to his efforts to claim that territory as Moscow's.
The Kremlin will likely immediately treat the territories as though they are parts of Russia now that vote tallies have been claimed. "The entire state territory of Russia that has already been or can additionally be formalized in the constitution of our country will certainly benefit from full protection," Foreign Minister Sergey Lavrov said at a New York news conference on Saturday. "How can it be otherwise? All the laws, doctrines, concepts, and strategies of the Russian Federation are applicable throughout its territory."
There are concerns that Ukrainians in parts of the country controlled by Russia will be conscripted by their occupiers.
Ukrainian officials say Russia is using the votes as a pretext to draft Ukrainians into the Russian military. "The main purpose of the fake referendum is to mobilize our residents and use them as cannon fodder," Ivan Fedorov, the Ukrainian mayor-in-exile of Russian-occupied Melitopol, said on Telegram.
Ukraine's National Resistance Center said last week in a statement: "It is clear that after the referendum the enemy will announce mobilization on the occupied lands as well because it needs human resources."
The Ukrainian government says the Russian occupying administrations, together with Russia's Federal Security Service (FSB), are drawing up lists of thousands of people to be mobilized in Zaporizhzhia and Kherson.
In Luhansk region, which is almost entirely occupied by Russia and Russian-backed forces, Ukrainian officials say the self-proclaimed Luhansk People's Republic is already implementing widespread conscription.