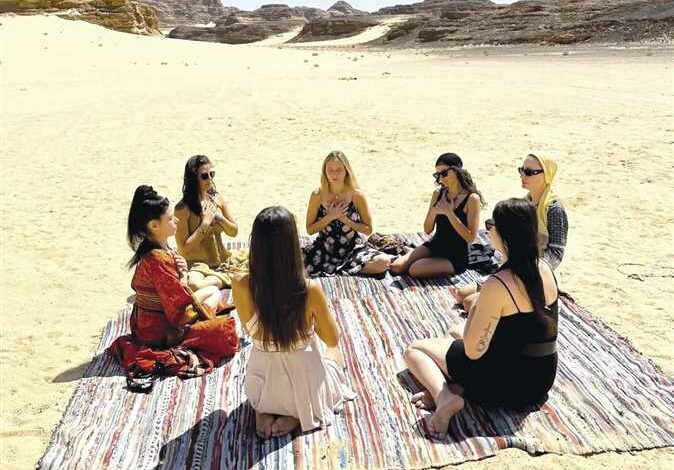 "Communicating with the primitive energy of love."
That's the goal that led Russian guide Elena Fadeeva to isolate herself in the desert of South Sinai, accompanied by a number of foreign women on a therapeutic trip that lasted for a week with the aim of healing through inner energy, in order to dive into the secrets of the inner world of psychology and treat unresolved obstacles.
In these sessions, which Fadeeva called the "Wild Shakti Sanctuary", trainees learn self-reflection, and they also get psychological support, in addition to practicing various activities. In addition, Fadeeva urged them to have similar intentions, whether in healing, learning, liberation or self-discovery and mastery.
She described her journey in the Sinai desert as an "Incredible experience".
"I join a number of brave women. Our journey consisted of sleeping under the stars, facing our fears, and deepening in ourselves. Surrounded by the vast desert, we found peace in absolute silence, and practiced yoga and wild and free dancing," she explained.
"We were hosted by the Bedouins. They made us feel safe and as if we were part of their family. It was a special week full of adventures and deep insights."
"The biggest lesson I learned from the trip was that being on the phone a lot in my real life is not healthy for me and my happiness," she said.
Fadeeva added that the purpose of her work is to help people create the lives they long for and address the unresolved issues of their past.
She also considers protecting nature and wildlife a big part of her life's journey.
Fadeeva touched on her life, explaining that she was born in Russia, and at the age of 18 she began traveling around the world as a model, and after a long journey that lasted four years, she moved to Austria.
There she obtained a diploma in cultural studies, and during the study she realized that she was not living the life she wanted.
With the help of a friend, Fadeeva started practicing yoga, which guided her onto the right path.
"I continued to learn in alternative fields, such as therapeutic work, shamanism, shiatsu, and craniosacral therapy. These exercises opened my eyes to new dimensions of life," she said.
She concluded, "For the time being, I am on a journey to fulfill my dreams, while helping others change their lives. I want to recommend every woman who longs for recovery to experience such trips."