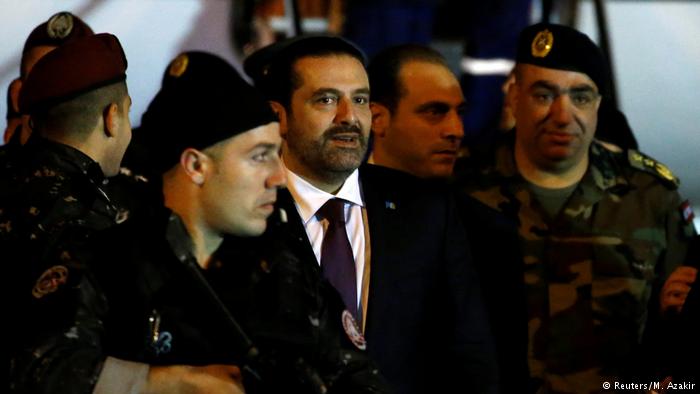 Lebanese television showed live footage of Saad Hariri returning to the country late on Tuesday, with the prime minister's plane landing in Beirut and the leader leaving amid tight security.
Hariri left without addressing journalists gathered at the airport.
He then visited the grave of his father, Rafiq Hariri, Lebanon's former prime minister who was assassinated in a 2005 bombing. Hariri later headed to his home in central Beirut.
Lebanon's President Michel Aoun has yet to accept Hariri's shock resignation, which has fueled tensions across the Middle East.
Hariri is expected to attend Lebanon's Independence Day army parade in Beirut on Wednesday, before meeting with Aoun and giving a public statement on the crisis.
Forced to step down?
Hariri, who is also a Saudi citizen, announced he was stepping down during a trip to Saudi Arabia on November 4. In a video message, he decried Iran's influence in Lebanon and hinted at an assassination plot against him.
Many officials in Lebanon, however, have claimed Hariri was forced to step down as part of a larger power play against Iran. Political power in Lebanon is divided among Christian, Shiite and Sunni factions, with Sunni-dominated Saudi Arabia and Shiite Tehran backing different groups.
President Aoun, who is a Maronite Christian, struck a defiant note during a television address on Tuesday.
"Lebanon will not obey any opinion, advice or decision that drives it toward internal strife, and those who wish Lebanon well would help it consolidate its unity because it is its safety valve," he said.
After announcing his resignation, Hariri spent two weeks in Saudi Arabia before accepting an invitation from President Emmanuel Macron to meet in France. He headed home on Tuesday with short stops in Cairo, where he met Egyptian President Abdel-Fattah el-Sissi, and Cyprus, where he spoke with President Nicos Anastasiades.
El-Sissi and Macron are reportedly trying to mediate a solution for the crisis which would involve Hariri staying in office. In an interview with media station Future TV, the prime minister said he could retract his resignation if his rivals could agree on a deal to keep Lebanon out of regional conflicts.
The 47-year-old Hariri arrived in Beirut without his wife, Lara al-Azm. According to sources cited by the dpa news agency, Hariri's spouse returned to Saudi Arabia to join two of their children who attend school there.
As news broke of the prime minister's return, supporters of his Future movement took to the streets to celebrate, driving around Beirut and waving pictures of him.