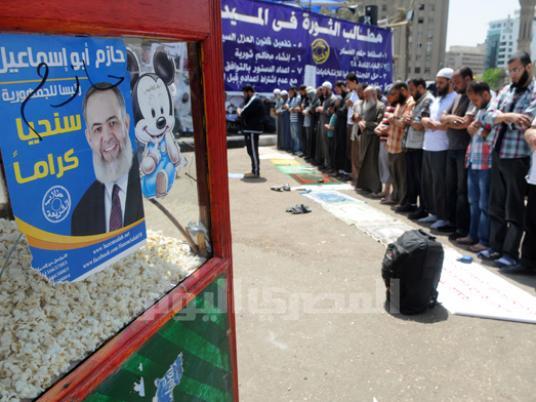 Hazem Salah Abu Ismail, a Salafi lawyer excluded from the presidential election last month, has called on Islamists and other political forces to stage a million-man demonstration in Tahrir Square Friday to protest the clashes in Abbasseya last week.
On his Facebook page, Abu Ismail said he would join the demonstration despite his poor health condition. He said the protest would be the last he will call for.
"Injustice is spreading everywhere," he wrote, urging men, women and children to take part in the demonstration.
"The authorities have connived with the media to delude the people with false information," he added.
The Salafi Front said it would not participate in the demonstration or any other ones called for by Abu Ismail.
"We used to participate when he represented a public issue," said front spokesperson Khaled Saeed. "Now the interest of Egypt is above all, and we shall only participate in demonstrations agreed upon by all political forces."
Mohamed Nour, spokesperson for the Salafi-oriented Nour Party, said it is more important to focus on the handover of power, the presidential election and the Constituent Assembly crisis than hold demonstrations.