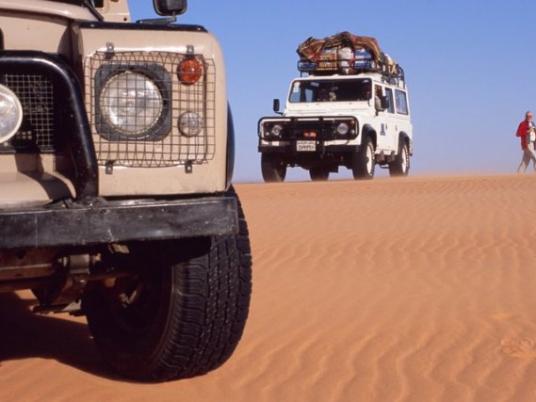 No one has ever struck me as more out of place than Mahmoud Marai in downtown Cairo. The lines on his face, carved a bit more profoundly by the rays of the harsh desert sun, his black wavy hair tied up in a low ponytail, and his sporty bicolor outfit of khaki and white stand out against the incessant honking of cars in the background.
"I don't feel comfortable in Cairo," he says, explaining that he was just stuck for 30 minutes in the suffocating metro that was encountering technical problems. "It's funny, he says on the way to the shaded coffee shop a few blocks down from Groppi. "I cruise the desert all the time and it seems easier to navigate than Cairo; I feel lost here," he says with a smile, pointing at Cairo's usual exuberance.
Marai, in his late thirties, belongs to the dying tradition of great explorers, which seemed to have withered as the 20th century went by. Since 1997, he has been cruising oceans of sand and pebbles in Egypt, Libya, Sudan and Algeria's mostly pristine deserts on the lookout for adventure, transcendence and milestone prehistoric and pharaonic discoveries.
But what may be most surprising is that neither his studies in chemistry at the American University in Cairo, nor his career as a teacher, had prepared him to become an adventurer of modern times, fiercely driving a sturdy and inexhaustible four-wheel car in the most remote locations of the Egyptian desert.
"The desert struck me by surprise," says Marai with disarming honesty. "This happened in 1997, I remember a trip to Siwa with my cousin as a revelation. We had no idea on how to navigate the desert, but it was an exhilarating feeling."
It was so exhilarating that Marai abandoned his school's chemistry tubes and bubbly potions soon afterward, and prepared his first desert exploration of Gilf al-Kebir (the Great Barrier) a 7,700-square-kilometer sandstone plateau which rises 300 meters from the Libyan Desert floor in the remote southwest corner of Egypt.
The more he roamed these vast, barren lands, the more his knowledge in the area and his mechanical skills improved. "I kept transforming my Land Rover until it became the ideal desert vehicle," says Marai who improved its resistance by changing the car's engine with a Toyota diesel one, adding sand-resistant filters, and installing a heavy-duty roof rack and an air compressor to inflate and deflate the tires from inside the vehicle.