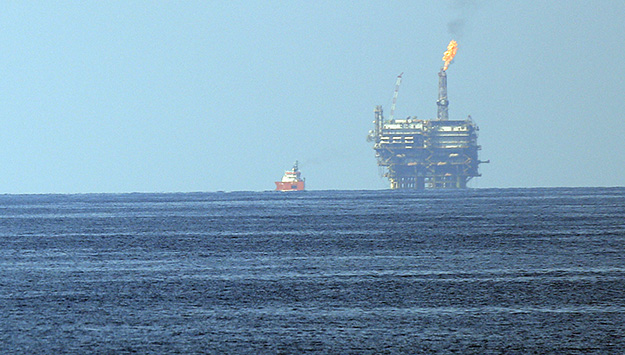 ‍The Italian company, Eni, announced the discovery of a new petroleum well in the concessions of the Mleiha, western desert.
the new discovery capabilities reach about 8,500 barrels per day of oil equivalent, according to a company statement.
According to the company, these results which were added to the discoveries in 2021 for a total of eight exploration wells, gave 75 percent of the success rate.
Other explorations in the concession are underway with promising indicators. With these discoveries, Eni continues, through Agiba, a joint venture between Eni and EGPC, successfully pursues its near-field strategy in the mature basin of the Western Desert, with the aim of maximizing production by containing development costs and reducing time to market.
In addition, Eni is renewing its commitment in the Western Desert through the recent acquisition of two exploration blocks planning in 2022 for new high-resolution 3D seismic survey in the Mleiha concession, also aimed at investigating gas potential in the region, in line with the objectives energy transformation.
Eni announced in January that it won five new exploration licenses obtained from the Egyptian Ministry of Petroleum and Mineral Resources, after participating in the global bid for oil exploration in 2021
The company said in a statement that the bid was previously announced by the Egyptian General Petroleum Corporation and the Egyptian Natural Gas Holding Company, through Egypt upstream Gateway Project.
Eni explained that the licenses are located in the Eastern Mediterranean Sea (Block "EGY-MED-E5" in partnership with BP 50%-50% and Block "EGY-MED-E6" IEOC 100%), in the Gulf of Suez (Block "EGY-GOS-13" IEOC 100%) and in the Western Desert (Blocks "Egy-WD- 7" in partnership with APEX 50%-50% and "EGY-WD-9" IEOC 100%) with a total acreage of about 8,410 sqkm.
It added that the licenses are placed within prolific basins with proved petroleum systems able to generate liquid and gaseous hydrocarbons and can also rely on nearby existing producing and processing facilities and on a demanding market that will allow a quick valorization of the potential exploration discoveries.