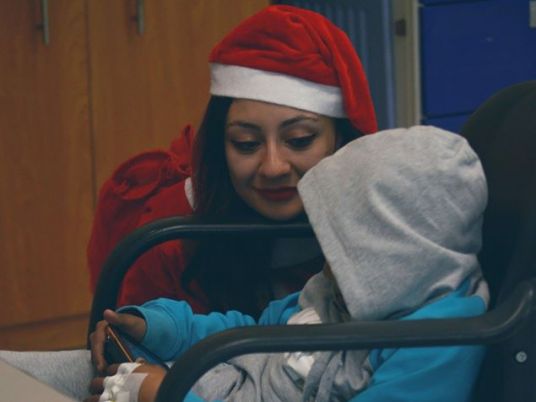 Last week a lady dressed in a Santa Claus costume along with a photographer roamed Zamalek streets handing passengers candies and taking photos of them to share happiness. This intiative grabbed the attention of many, which entused the team to repeat the same experience last Wednesday to draw smiles on some tiny pale faces which are tired from chemotherapy.
The photographer Gehad Saad along with the Santa girl Naira Hany collected donations and headed to the Children Cancer Hospital, also known as "57357", to share the joy and fun of Christmas with the long-suffering children with cancer.
"We wanted to make them happy, to play with them and give them gifts, as I believe those kids need something new in their life. They need to laugh, they need something different to take their mind away from all the medications and the doctor visits," said Hany, the lady dressed as Santa.
When the team visited the hospital the feedback was amazing. The children were thrilled to see Santa Claus "in the flesh" for the first time, they ran and surrounded the visitors to get the gifts.
"We went to the chemotherapy partition, where we found many sleeping kids, resting after taking their chemotherapy dosage; we left the gifts beside them so they can wake up and find a surprise," Saad told Egypt Independent.
"One important part of my message is to encourage people to do good deeds and to share happiness with others," said Saad, the photographer who initiated the idea.
The team distributed several gifts including toys, accessories and balloons. "The hospital management was very cooperative and helped us to reach the widest number of kids," he said.
The team is planning to visit Abu el-Reesh Children Hospital very soon.
Two weeks ago, after the wave of grief that hit Egypt over the recent terrorist incidents, photographer Saad decided to launch a new creative photo session. He picked his young friend Hany and asked her to dress in a Santa Claus outfit, then meadered through the Zamalek neighborhood to distribute chocolates to random passers-by, street vendors and passengers of public buses.
"I decided to go for a lady dressed as Santa this year for two reasons. First because 2017 is the 'Year of Women'; second, I want to break the traditional image of the Santa Claus which is an old fat man and say, hey, why not? it could be a young lady," Saad told Egypt Independent.
Saad usually works on free photography sessions to demonstrate women's rights and combat violence against women; he has photographed sessions that were geared against the marriage of minors; sexual harassment; and other women-related issues.