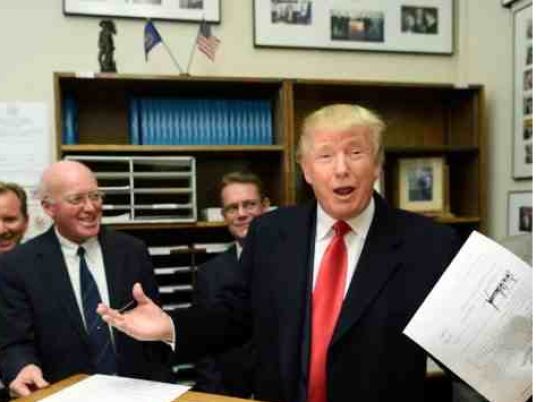 Donald Trump's appearance as guest host of "Saturday Night Live" helped the TV comedy sketch show earn its highest viewership ratings since 2012, the NBC television network said on Sunday.
The show, which came under fire from Latino groups for inviting the blunt-spoken Republican presidential frontrunner to host, garnered a 6.6 rating in the 56 US markets measured by Nielsen Media Research, NBC said in a statement.
The Trump show was the highest rating for SNL since January 7, 2012, when an episode hosted by retired basketball star Charles Barkley pulled in a 7.0 rating, said the Comcast Corp.-owned network.
Saturday's rating was about 50 percent higher than the season premiere on October 3 when Democratic presidential hopeful Hillary Clinton made a cameo appearance, according to CNNMoney.com.
Ratings are a measure of the audience as a percentage of all television households, whether their sets were turned on or not during the show's time slot.
Trump's appearance received an avalanche of advance publicity when Hispanic groups objected to NBC's decision to invite the billionaire developer, saying it was legitimizing his "racist" views on immigration.
Even so, many critics say the SNL skits featuring Trump didn't quite live up to all the hype.
"Viewers tuned in to see a joyless, nearly unfunny show, which ended in a curtain call with Mr. Trump and the cast that played like a hostage video," wrote New York Times television critic James Poniewozik.
Before the show, Latino activists demonstrated outside NBC's New York studios at 30 Rockefeller Plaza.
The former star of reality TV show "The Apprentice" outraged many Americans in June when he described Mexican immigrants as rapists and drug smugglers. While he made a crackdown on illegal immigration a main campaign theme, Trump has also said many of his employees are Hispanics and that they love him.
The show made reference to that controversy when comedian Larry David, in an obvious send-up, called out "Donald Trump is a racist!" to an apparently unfazed Trump. David then told the host that he was seeking a $5,000 bounty that a website called DeportRacism.com promised to pay for on-air heckling.
Trump told CNN on Sunday that he vetoed some of the more risque skits, and earlier in the week he told Fox News it was because he didn't want to alienate voters in Iowa, home of the first event in the 2016 presidential nominating contest.