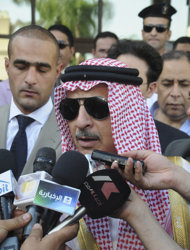 Saudi Arabian Ambassador to Egypt Ahmed al-Qattan said that of the 2 million Egyptians living in Saudi Arabia, fewer than 1,000 are imprisoned.
During a meeting with Coptic Orthodox Pope Tawadros II, the ambassador also said that only 28 of those detained have actually been convicted of any crimes, with the rest detained pending investigations.
The issue is a sensitive one in Egypt after several high-profile cases came to light, including human rights lawyer Ahmed al-Gizawy, who was sentenced to five years in prison and 300 lashes in January for allegedly smuggling banned Xanax pills into the kingdom. Gizawy's family and supporters say that Saudi authorities fabricated the charges in retaliation for his human rights work there.
President Mohamed Morsy had spoken to Saudi officials in January about the prisoners, saying only 24 Egyptians were being actively detained, but refused to put political pressure on the kingdom to release them.
Morsy also said that he was following the case of Nagla Wafa, an Egyptian who was sentenced to 500 lashes and five years in prison after a business deal with a Saudi royal family member went awry.
Qattan congratulated Tawadros on his new position during the meeting, and the two also discussed the pope's participation in a regional dialogue on religion at King Abdullah bin Abdul Aziz's special center in Vienna.
"Churches cannot be built in Saudi Arabia … however, we respect other religions' followers," said Qattan.
He claimed religious and cultural minorities are respected in Saudi Arabia, including Shia Muslims.
Edited translation from Al-Masry Al-Youm