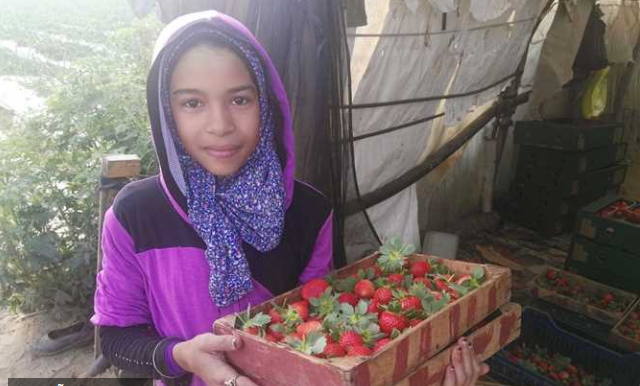 Deputy Minister of Agriculture Safwat al-Haddad revealed that Egyptian and Saudi officials agreed Saudi Arabia will revoke the ban on the import of Egyptian strawberries and pepper in the next few days.
The Saudi decision will be announced within days, said the head of the Horticultural Export Development Association Mohsen al-Beltagy, describing the decison as a "success" by Agriculture Ministry officials and the Association.
In 2017, Saudi Arabia banned the import of various Egyptian crops, including strawberries, pepper, and guava, due to the high percentage of pesticide residue which are not up to international health and safety standards.
Chairman of the Agriculture Export Council Abdel Hamid al-Demerdash told Al-Masry Al-Youm that he, along with the head of the Central Department of Quarantine, Ahmed al-Attar, agreed with Saudi Arabia during their two-day visit to the Kingdom to officially cancel the ban after the Saudi agriculture minister returns from a foreign tour.
The agreement is the first step to restore the prominence of Egyptian agricultural exports in the Arab region, especially in Gulf countries such as the United Arab Emirates, Kuwait, and Bahrain, Demerdash added.
During the meeting, Egyptian and Saudi delegates reviewed safety measures to be applied through the Egyptian Export System, on peppers, strawberries, and other major export crops, in accordance with international standards, according to Demerdash.
Demerdash also pointed out that the current total value of Egyptian exports of processed and fresh-fruit stand at $5 billion, adding that Egypt seeks to increase this figure.
Haddad told Al-Masry Al-Youm that Egypt is keen to increase agricultural exports in cooperation between the government and the private sector, through the application of the Egyptian Export System and by tightening pesticide-control measures on all shipments, as well as by applying a European standard of quality.
Haddad added that Abdel-Moneim al-Banna, Egypt's Minister of Agriculture, was keen to emphasize during his meeting with his Saudi counterpart during the latter's visit to Cairo on Sunday that Egypt applies the Egyptian Export System to all agricultural export products in accordance with international agreements that take into account the internationally permitted levels of pesticide residues in agricultural crops.
The export season for strawberries begins in November and ends on April 10, Demerdash said in earlier statements.
Strawberries represent between 5-10 percent of the total export of agricultural crops, he added.
Edited translation from Al-Masry Al-Youm