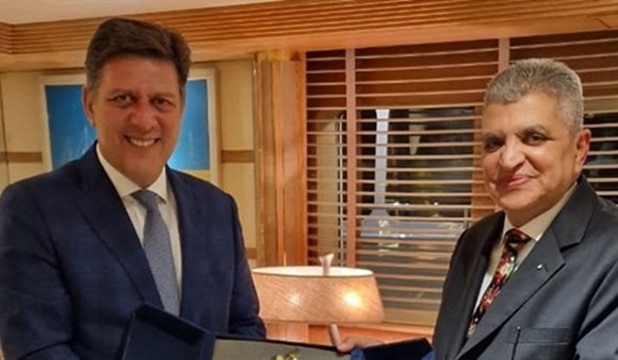 Chairman of the Suez Canal Authority (SCA) Osama Rabie said the authority is keen on investing long-running partnership relations with Greece to create more success chances and promote integration through the exchange of experiences and transfer of technology, according to a statement by the authority.
The authority is very interested in making partnerships with its companies and shipyards in activities related to maritime services, he added at a meeting with Greek Minister of Maritime Affairs and Insular Policy Miltiadis Varvitsiotis on Thursday, said the statement.
The meeting aimed to discuss ways of boosting joint cooperation and convened on the sidelines of the first Arab-Hellenic Maritime Conference that started activities on July 5 and will last for two days in Greece, it added.
The event is organized by the Arab-Hellenic Chamber for Commerce and Development.
During the meeting, Rabie talked about the latest developments in Suez Canal over the past period and the canal's projects along with its developmental plans.
In turn, Varvitsiotis asserted the Suez Canal will remain a strategic axis for the global trade movement.
He commended the canal's integrated vision on developing its potentials and capabilities to best play
its vital role, saying he is looking forward to fostering future cooperation with the authority.