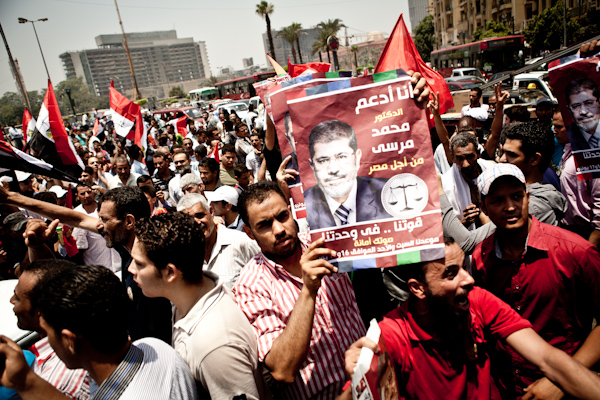 Members of the Muslim Brotherhood Guidance Bureau have claimed that the Presidential Elections Commission has delayed announcing Mohamed Morsy's victory to give the ruling military council time to pressure the Brotherhood for political gains.
Guidance Bureau members told Qatar-based news organization Al-Jazeera that the Supreme Council of the Armed Forces told the Muslim Brotherhood that if they cleared Tahrir Square of protesters, Morsy would be announced as the victor the next day.
The Brotherhood members added that the group is in a serious political dilemma, because even if Morsy is the president, he will not be able to cancel the supplement to the interim constitution, which ensures the SCAF's authority. Morsy's power would be greatly limited by the document.
Brotherhood Guidance Bureau member Mohamed Abdallah al-Sayyaf said that the SCAF is delaying announcing the results to force the Brotherhood to accept the supplementary Constitutional Declaration and the dissolution of Parliament.
Guidance Bureau members added that the Muslim Brotherhood refused to attend a meeting called by the SCAF to discuss the current tension in the country.
Deputy Supreme Guide Khairat al-Shater was supposed to attend the meeting but the Brotherhood was warned against it. Advisers told the Brotherhood that it could be perceived as an attempt to make a deal with the SCAF at the expense of other political movements and the revolutionary forces.
"We will not leave Tahrir Square even after Morsy is announced the winner, because we want a president with full powers. We demand the cancellation of both the supplement to the Constitutional Declaration and the dissolution of Parliament," Saad Emara, a Guidance Bureau member who sits on the Freedom and Justice Party Executive Council, said.
Emara added that Shafiqs's victory would not necessarily spark a second revolution because "the revolution is not over yet, so how can we have a second one? The revolution still exists and we will continue it by achieving its demands."
Edited translation from Al-Masry Al-Youm