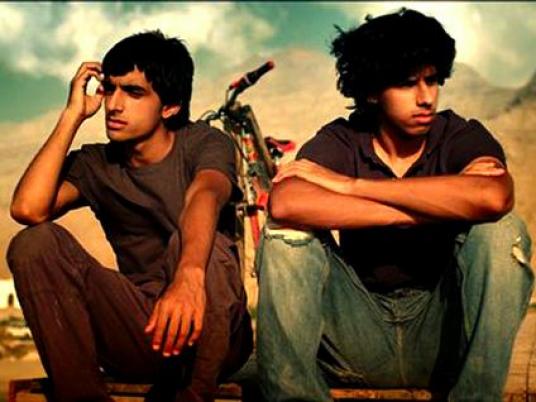 Set away from the UAE's major cities with their crisp paved roads and marvelous skyscrapers, Nawaf al-Janahi's second feature-length film "Sea Shadow" (2011) presents some of the less known stories of life in the Emirates. The film had its world premier in the 2011 Abu Dhabi Film Festival and is currently showing as part of the 35th Cairo International Film Festival.
Protagonists Mansoor (Omar al-Mulla) and Kaltham (Neven Madi) live in a poor seaside neighborhood in Ras al-Khaimah; and through their stories, stereotypical perceptions of social welfare are shattered and more relatable and diverse faces are given to the UAE's estimated one million native population.
Mansoor delivers the sherbet his mother makes and sells to support the family to the neighborhood residents on his bike. But his mind is elsewhere, thinking initially of his beloved Kaltham whom his wheel-chaired father describes as "the most beautiful girl in the neighborhood." As a sixteen-year old, he is having these feelings for the first time and asks his best friend Sultan (Abrar al-Hammad), who accompanies him on some of his delivery trips, about love.
Following Sultan's advice, Mansoor decides to buy Kaltham a gift and starts charging his mother's customers money for the delivery behind her back, a move which later in the film backfires.
On his journey to earn some extra cash for the anklet, we are given sneak peaks into the lives of the neighborhood residents, his mother's many clients. On one visit, he meets a young woman who moved back in with her affluent parents after she got divorced, and gradually begins falling for her. She is the first woman who gives him attention and tells him that lovers should have a special love song, in that case the songs of the Gulf's top singer Abdul Majeed Abdullah. So Mansoor decides to sell his bike and go to Dubai to buy her Abdullah's complete collection from the local Virgin Store.
Mansoor's confusion between the two women is a result of absence of women in his life. He can barely speak to Kaltham due to local traditions and his relationship with his mother is very cold and strained. In one scene, he asks his mother as they watch TV when he would grow a beard, only to be told to get up and go to bed.
Although women in the film do have a strong presence ¾ they are the breadwinners like in the case of Mansoor's family as his father has fallen sick and is confined to a wheelchair ¾ no one seems to reflect the aspirations of Emirati women more than the young Kaltham. She is shy and fears men. Harassment is hinted at in many scenes of "Sea Shadow," but still Kaltham is very strong, looking after her young sister Maryam and her secluded father after her mother passes away.
The only men she seems to trust are her elder brother Jasim who moved to work in Abu Dhabi and her crush, Mansoor. She tries to see Mansoor when possible within the constraints of local traditions. She would occasionally make a home cooked meal and deliver it to his mother's house in the hope of seeing him, and she saves him toward the end when she warns Sultan of the neighborhood bullies chasing Mansoor. But Kaltham also aspires for a different life. She wants to move with her brother to Abu Dhabi to study and work.
Through Mansoor and Kaltham's lives, "Sea Shadow" introduces viewers to changes the UAE is experiencing, reflecting social and economic gaps between the rich and powerful residing in Abu Dhabi and Dubai, and those living in the poor older neighborhoods of the Emirates. It also shows the gradual change in aspirations, particularly among younger generations like the tension between Jasim and their father about moving into the city.
"Sea Shadow" is among the pioneering Emirati films to be screened in several international festivals. It was produced by Image Nation Abu Dhabi, which has also produced films like "My Name is Khan," " Fair Game" and "The Help."