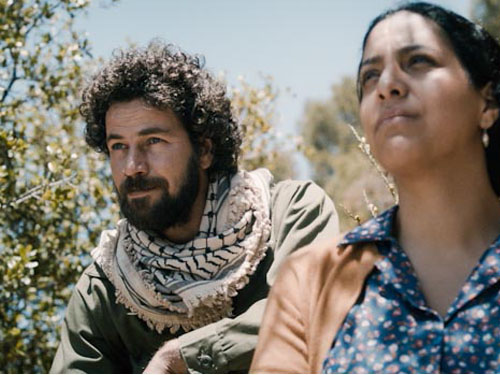 Currently screening in the 35th Cairo International Film Festival as part of the Arab Film Competition, "When I Saw You" provides an insightful and visually evocative child's-eye view of the 1960s Palestinian resistance in Jordan.
The sophomore film by Palestinian-Jordanian writer and director, Annemarie Jacir, it premiered earlier this year in the Toronto International Film Festival's Contemporary World Cinema program, and is regarded as the follow-up to her award-winning debut feature film, "Salt of This Sea." In her 2008 debut film, Jacir portrays a hypothetical drama about a Brooklyn-born Palestinian woman who travels back to her native land of Palestine, by way of Israel, to retrieve her recently deceased grandfather's savings.
While many critics described "Salt of This Sea" as an over-articulated and heavy-handed take on the Israeli-Palestinian conflict, the film received notable accolade in the international festival circuit, and was accepted into the 2008 Cannes Official Selection, where it went on to win the prestigious FIPRESCI International Critics' Prize.
But if Jacir's debut film is considered a bit too loud, "When I Saw You" may just be a decibel short of a whisper, as she searches to find a balance between an over- and understated narrative. That being said, both films are beautifully shot and remain highly important in regards to the ongoing plight of Palestinians.
Set in Jordan in 1967, "When I Saw You" revisits a historical period of the Palestinian refugees — in an effort to reclaim Palestine, the Arab states have just lost the second war waged on Israel. Subsequently, new generations of Palestinians are forced to flee to refugee camps in Jordan as the Israeli army seizes control of the West Bank, the Gaza Strip, the Golan Heights and East Jerusalem.
It is then that we are first introduced to a young, weathered mother, Ghaydaa (Ruba Blal), and her 12-year-old son, Tarek (Mahmoud Asfa), who have been recently separated from Tarek's father, Ghassin, during the rush toward refuge. Every day, they wait with desperately searching eyes as new batches of Palestinians pour in, but time after time, Ghassin is nowhere to be found.
Ghaydaa seems to have lost all hope, and emanates a sense of utter defeat as she carries out her displaced existence, robotically passing through her days between work at the Women's Center and nurturing her son in the confines of their small metal shack.
Tarek, who we are told has a learning disability and is unable to read, remains ever hopeful — while he shows signs of autism, the young boy has a prodigy-like ability for numbers, something of a child Rain Man, but without the stuttering.
Unfortunately, his teacher sees him as a disruption to the classroom and expels him from the school, leaving little Tarek to wander aimlessly around the tragically depressing camp. As Tarek plays solemnly in the dirt, he finds his only solace in dreaming about returning home to find his father — other bursts of joy are seen when he roams and plays seemingly free in the camp's adjoining sand forest.
It is here that we see Jacir's usage of walls and confinement juxtaposed against the young boy's sense of freedom in open nature — the stark contrast between scenes pushes forward her depiction of the prison-like conditions in the refugee camp.
One night, Tarek pleadingly asks his mother which direction their home is as he yearns to find his father, his bed and his bathroom. With his inability to grasp why they are forced to remain the camp, he asks, "We came here by foot, then we can return by foot, right?" His mother temporarily alleviates his questions by reminding him that their home is where the sun sets, and that one day, his father will find them.
The next day, Tarek wanders off again, but this time he has a direction in mind. He will follow the setting sun until he reaches his beloved home in Palestine. Along the way, he comes across a broken-down car with three 20-somethings from Jordan. They ask him if he is from the nearby camp, and before he replies, they wave him away while insensitively calling him a "refugee" — yet another concept that Tarek cannot seem to grasp.
After getting lost during night's fall, Tarek is awoken the next day by a Fedayeen, or fighter, named Layth (Saleh Bakri), who he recognizes from the camp. Bakri also appears as a lead role in Jacir's "Salt in This Sea." Layth takes Tarek with him to a nearby, secret combat camp where a couple dozen fedayeens are stationed and engaging in military training to fight for freedom.
Tarek is instantly mesmerized with the training camp, its members and, most of all, military leader Abu Akram (Ali Elayan). Soon, Abu Akram begins giving the young boy tasks, and humorous scenes come into play when Tarek uses his numerical genius to count the soldiers' workout sets. For the first time in the film, Tarek seems to feel a sense of belonging and finds himself one step closer to a fast route home.
Soon after, a distraught Ghaydaa stumbles upon the training ground begging to know if they have found her son. After she reunites with Tarek, she is faced with the difficult decision of staying within the hopeful and determined atmosphere of the training grounds, or returning back to the disparate and depraved conditions of the refugee camp.
While Jacir's film feels a bit underdeveloped in its narrative and character development, with exception to the role of Tarek, the film succeeds in portraying the seemingly forgotten hope and idealism of 1960s Palestine — or a 1960s world, for that matter. Throughout the film, Jacir's themes do emerge, most notably her questions regarding the concept of borders, what it means to be a refugee, and the unrelenting human quest for freedom. But while political messages are present throughout the film, it still remains unclear what exactly Jacir is trying to say. In various scenes, it feels as if she stops a bit too short just as she's about to make her point.
Thankfully, Mahmoud Asfa's endearing on-screen charisma, combined with Jacir's character development of Tarek, makes for some captivating scenes and helps to carry the movie along — something should also be noted about the subtle, childlike humor presented sporadically throughout the film. In the end, however, the viewer is left with somewhat of an empty feeling, although not so much out of sadness, but more out of ambiguity.
Annemarie Janic's "When I Saw You" is this year's Palestinian entry for the Best Foreign Language Oscar at the 85th Academy Awards, and was recently named the Best Film from the Arab World in the New Horizons/Afaq Jadida Competition at Abu Dhabi this past October.
The film will be screening again in the Cairo Film Festival on 4 December at 6:30 pm. Please refer to the festival website to confirm date and time.