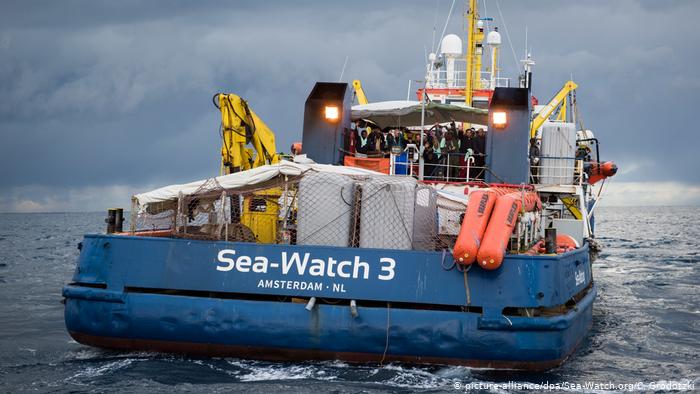 The German NGO Sea-Watch announced that its ship Sea-Watch 3 was released by Italian authorities Saturday after being impounded nearly three weeks ago.
A tweet by the organization read: "The Sea-Watch 3 is free! We just received the official news that our ship is no longer confiscated and can return to deployment."
The ship was initially prohibited from docking in Italy after rescuing 65 migrants off the coast of Libya in mid-May. Its request to dock in Lampedusa was blocked by Italy's far-right interior minister, Matteo Salvini, but his decision was eventually overturned by the European Court of Human Rights (ECHR), which said Salvini's actions violated international law.
Salvini claimed the captain of the ship, Arturo Centore, had entered Italian waters illegally, and Sea-Watch countered that he only did so after several of those rescued threatened to kill themselves if they were not allowed to disembark in Italy.
Salvini, an immigration hard-liner, has called organizations like Sea Watch "traffickers, not rescuers."
'These people are desperate'
Sea-Watch spokesman Ruben Neugebauer said, "Such situations must be taken seriously, these people are desperate."
The ship was ultimately allowed to dock in Licata, Sicily. On Friday, Heinrich Bedford-Strohm, head of the Council of Protestant Churches in Germany, flew to Sicily to visit crew members.
"Allowing people to drown in the Mediterranean or sending them back to gruesome camps in Libya is not an option for Europe," Bedford-Strohm said. "The dying must stop."
Sea-Watch spokesman Neugebauer said that between five and 10 migrant vessels have been sighted on the Mediterranean every day in recent weeks. "There have been several deaths, because, among other things, the Italian navy has refused to help even though ships were nearby," he said.
js/sms (dpa, epd)