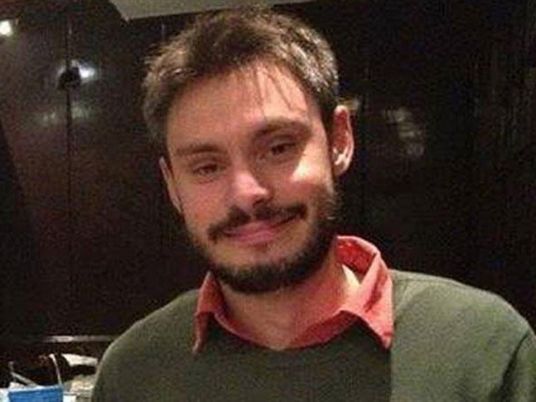 A second autopsy on Giulio Regeni, the Italian student found dead in Egypt last week, said that he suffered "inhumane, animal-like" violence, according to Italy's Minister of Interior Angelino Alfano.
Unidentified sources close to the Italian coroners told the Italian news agency ANSA that findings showed that Regeni's neck was twisted, the vertebra was broken and he was left unable to breathe. Moreover, they reported that the Italian student suffered other fractures in his body.
The 28-year-old PhD student was reported missing on the fifth anniversary of January 25 Revolution. Regeni was on his way to meet a friend to join a birthday party of another friend. "He told me he will arrive in 25 minutes, I waited for a long time in downtown but he didn't come. I moved to the party and he didn't show up their either," a friend of Regeni told the Giza prosecution.
After the disappearance, the Italian embassy urged the Egyptian government to do everything necessary to find him urgently. On February 3, Regeni's corpse was found dumped on the side of the road in Cairo with "signs of torture" on his body.
Giza Province prosecutor Ahmed Nagi added that Regeni was found half-naked with bruises on his face, cuts to his ear and cigarette burns on his body. "He died slowly," Nagi said.
Speaking to CNN, Nagi said "the initial examination of the body indicates that what happened was not a coincidence, and we suspect that it's a 'criminal act'."
Italy's ambassador said that the victim's body showed signs of a brutal beating and torture. AP reported that Rome prosecutors have opened a murder investigation into Regeni's death.
A group of NGO's published a joint press statement commenting on the death of the Italian student saying that "Away from the personal consequences, this incident, undermines the country's reputation of being a secure and safe place, as it followed by a direct visit suspension of the Italian Minister of Economic Development Frederica Gwede and the withdrawal of an Italian delegation. In addition, Egypt's ambassador in Rome was recalled."
The statement said that this incident is similar to the one that took place in 2015 when a group of Mexican tourists were killed by security forces in the Western Desert after mistaking them for terrorists.
The statement was published by the Egyptian Center for Economic and Social Rights, the Association of Freedom of Thoughts and Expression, Al-Nadeem Center for Rehabilitation of Victims of Violence and Torture, the Arabic Network for Human Rights Information and Land Center for Human Rights.
Regeni was doing his PhD at the University of Cambridge about the Egypt trade unions, studying independent street vendors as a model for independent unions in Egypt.
He had written numerous articles criticizing the Egyptian regime, while Il Manifesto, a left-wing newspaper based in Rome, published the his final article on January 26.