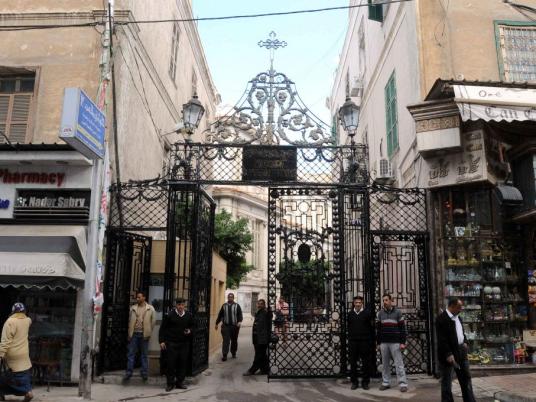 Less than a week has passed since the terrorist "Islamic State" (IS) group declared responsibility over the Botroseya Church blast, which occurred in December. Despite ongoing threats against Copts and targeting them in Al-Arish city, North Sinai, security measures taken at churches are still low.
The Interior Ministry only tightened security at churches of North Sinai and Ismailia, to which Copts headed fleeing the murders that took place in Arish.
Security sources said that police secure churches from outside only, as Copts refuse the security personnel's presence inside churches claiming the inside security is being handled by employees affiliated to the church. However, they can summon police personnel, in case they are skeptical about anyone in particular.
Major churches in Shubra saw high security measures, however, the measures were relatively lower at churches in Sharabeya. Two churches, the Church of Barbara the Martyr and the Evangelical Church, were both empty of any security personnel.
The Virgin Mary Church in Benha, Qalyubia, only had two personnel on the outside gate of the church, located near to the police station.
The Churches of Virgin Mary and Dar Morqos in 6 October City saw low security measures, despite the presence of security barriers at the entrance. Al-Masry Al-Youm's reporter was able to access the church easily without being stopped or checked by any security measures, although he was carrying a backpack. Additionally, the inspection device was malfunctioning.
The Two Saints Church in Alexandria, the site of a terrorist blast on New year's eve in 2011, saw a heightened security presence. Security personnel were seen there, in addition to a police car. The same could be observed at the Botroseya Church.
One of the Copts interviewed in Sohag, spoking on condition of anonymity said that it's easy to access the churches without being checked, despite the security presence in place at major churches.
Meawhile, an official at Sohag's archbishopric said that whoever accesses church buildings is being checked, while police are in place to secure the church from the outside.
Edited translation from Al-Masry Al-Youm