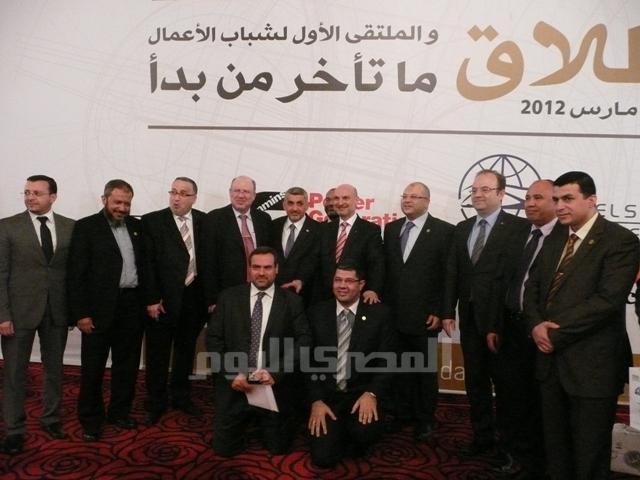 A senior Muslim Brotherhood member and businessman, who at this time last year had just been released from Tora prison, launched over the weekend the Egyptian Business Development Association (Ebda) to act as a channel of communication between investors and the government.
"We want a renaissance of Egypt's economy through encouraging investment, developing human capital, and helping to create economic decisions," founder Hassan Malek said.
At the 24 March opening event, which gathered businessmen and politicians, Malek also signed a cooperation agreement with Omer Cihad Vardan, head of Turkey's Independent Industrialists and Businessmen's Association (MUSIAD), to join an international business forum that will allow Egyptian and Turkish businesses to network and Egyptian entrepreneurs to attend educational workshops.
"What Turkey will offer won't be assistance and advice, because Egypt does not need that. Egypt needs partnership and this is what we're offering — cooperation between equals both in the Egyptian market and in the region," Turkish Ambassador to Egypt Hussein Avni Botsali told Egypt Independent.
MUSIAD played a key role in helping to decentralize Turkey's economic development, particularly in the development of small- and medium-sized enterprises throughout the country. In doing so, the association also helped cement the power of Turkey's Islamists, whose entrepreneurs set up the association.
"We started 22 years ago in Istanbul with only five businessmen. Now, we have thousands of members and branches in Turkey and throughout the Islamic world. MUSIAD's companies today represent 15 percent of Turkey's exports," Vardan said.
Ebda, which means "start" in Arabic, aims at encouraging investment in Egypt and spreading economic development throughout the country also through small- and medium-sized enterprises, as well as by offering vocational training to Egyptian entrepreneurs and creating a platform for information sharing on investment and business opportunities in the country.
"It's never too late to start" is the association's slogan.
"We want to create a business environment that's against corruption," Malek said. And, in an apparent attempt to ease fears about the Islamist nature of the new government, he assured, "Your investments in Egypt are safe."
This time last year, Malek had just been released from Tora prison after spending four years locked behind bars and charged in a military court, alongside other senior Muslim Brotherhood businessmen such as Khairat al-Shater, for alleged money laundering offenses and funding the Brotherhood, which was banned under the Mubarak regime.
Malek now operates in vastly different circumstances, in which his Brotherhood allies have risen to parliamentary power and his main foes in the old regime find themselves locked behind bars in Tora.
Malek comes from a business family and made his own money through software, textiles and furniture companies. He chairs Ebda's 15-member board of directors, which includes other prominent Muslim Brotherhood members and businessmen, such as Safwan Thabet of Juhayna group; Mohamed Moamen of Mo'men Group; Osama Farid of the Project Engineering Company; and Abdel Rahman Seoudi of Seoudi Holding, among others.
Ebda has 12 committees to organize its activities in areas such as external relations, economic development, entrepreneurs and junior businessmen, parliamentary affairs, financial and legal affairs, innovation and information technology, and more.
Investors keen but need clarity
Gulf, Egyptian and Turkish investors all expressed a keen interest in the Egyptian market, but said that political stability and clarity on the country's future policy direction is still needed.
"It will take time to establish credibility and security. Capital is the most cowardly in general. Investment looks for secure places, and without security and political stability, people will not invest," said Saad Al Barrak, former chief executive of Kuwaiti mobile telecommunications company Zain.
But, he added, "Egypt is one of the greatest platforms for an emerging country. For economic development to move forward, the right laws and promotions for investment are needed. Entrepreneurs can come in now, because they enjoy risk — as the Chinese say, 'Wherever there is danger, there is opportunity.'"
The Kuwait Investment Authority, the government's sovereign wealth fund, created last year a fund specifically for investing in Egypt. Kuwaiti investors, such as the Kharafi Group conglomerate, already have a significant presence.
Abdulrahman Al Zamil, a Saudi businessman and chairman of the Zamil Group, had a similar message.
"Egypt needs a comprehensive economic plan, as well as trustworthy and serious businessmen," he said.
Al Zamil also said he will present Finance Minister Momtaz al-Saeed with a plan for funding small- and medium-sized enterprises, which he recommends to be done through a government-led fund rather than banks.
Ahmed Elsewedy, chief executive of Elsewedy Electric, an Egyptian manufacturing company, said, "The Islamists need our help and expertise."
"Egypt needs strong security to encourage investments, and we need to improve our relations with Arab and African countries," he added. "There's a lot of interest in Egypt, but investors want to have clarity in the direction of the country."
Turkish investors are very keen too. There were US$2 billion worth of Turkish investments in Egypt in the textiles and steel sectors just before the 25 January revolution began last year, according to MUSIAD's Vardan.
"Turkish investors want to come in literally in every sector of the economy, but what is needed is security and stability, and these are problematic at the moment," Ambassador Botsali said.
"Whoever is going to rule the country in the next several years will need a plan to give foreign investors confidence. They will not come until they have the guarantee of profits and safely being able to transfer their earnings in and out of the country," he added.
Botsali and Vardan hope that Egypt can learn from Turkey's successes and failures. Turkey reformed its economy from near collapse in the 1980s to emerge as a booming emerging economy at present.
It created an export-led base by supporting its business environment and entrepreneurs through associations like MUSIAD, the creation of research and development centers, as well as "fiscal discipline, transparency, accountability and opening up to global markets," Botsali said.
In 2002, it also agreed to a tough recovery program with the International Monetary Fund, which the Turkish government believes has paid off.
"In the end of the reforms and privatizations and intensive foreign direct investment infusion throughout the last 10 years, we moved from a gross national product position of $50 billion to nearly $1 trillion, and our income per capita has increased from $2,000 to $10,000," Botsali said.
Egypt's businessmen and leaders are not oblivious to the responsibilities and challenges that lie ahead for the dream of a "renaissance" to be achieved.
Osama Farid, an Ebda board member and chairman of the Project Engineering Company, told Egypt Independent that new investors need a solid state, which includes the writing of a constitution, the election of a president and stability. He added that Egypt can look to Turkey, Malaysia, Brazil and Korea as models of development.
To this end, Ebda's supporters hope the association's creation will be one mechanism for providing investor confidence and supporting the private sector to achieve a measure of the social justice that people continue to take to the streets for.
Saad al-Husseini, an MP for the Brotherhood's Freedom and Justice Party and head of the People's Assembly Budget and Planning Committee, said Ebda will gather businessmen to help create an appropriate legislative environment for investment and help resolve their disputes with the government.
"This will help create more investment opportunities and development to fight unemployment," Husseini said. "We need to operate with a transparent framework, clarity, democracy and regulation so that the benefits of development spread for all."