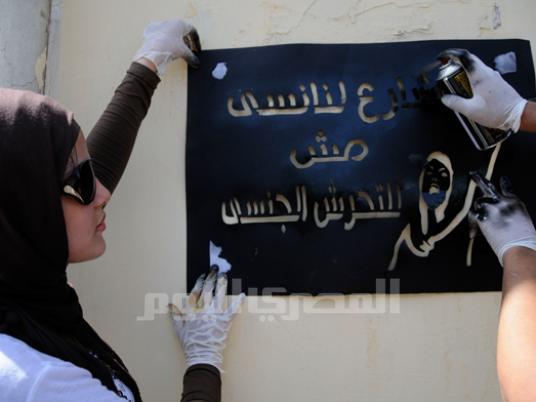 Downtown Cairo witnessed a spate of sexual harassment for the third straight day Tuesday, as activists and government officials have called for harsher penalties and increased enforcement.
Reports of sexual harassment streamed in from the Nile Corniche area, major streets downtown, movie theaters and public gardens. Police arrested 32 people and referred them to the prosecution, according to a source from the Cairo Security Department.
Several anti-harassment campaigns collecting reports said that the highest numbers of cases were reported near Maspero, Talaat Harb Street. 26 July Street, the Sadat, Ataba and Shuhada metro stations and the neighborhoods of Mohandiseen, Moqattam, Heliopolis and Nasr City. The campaigns called on people to report harassment by dialing 6069.
Judges have called for imposing harsher penalties for harassment by adding a new article to the law saying that harassers would be sentenced to a maximum prison sentence of 15 years.
Meanwhile, youth from the Constitution Party formed a human chain stretching from Shubra to Talaat Harb Street Monday to protest against harassment. Participants raised banners saying, "No to harassment, all of Egypt's girls are your sisters" and "Protect her instead of harassing her." The party's popular work committee coordinator Walid Gibril said that the goal of the chain was to send the message that harassment is a major crime.
A detailed study about sexual harassment published by the local group Egyptian Center for Women's Rights in 2008 said that nearly two-thirds of Egyptian men admitted to having sexually harassed women.
"Sexual harassment has become an overwhelming and very real problem experienced by all women in Egyptian society, often on a daily basis," said the center, adding that only 2.4 percent of Egyptian women reported it to the police. Most said they did not believe anyone would help.
Edited translation from Al-Masry Al-Youm