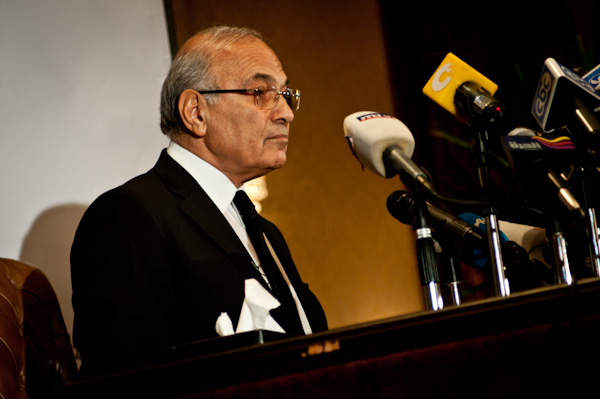 Former Prime Minister Ahmed Shafiq said in a press conference Thursday night that he is sure he won the presidential race, but he will wait for the official results from the Presidential Elections Commission.
He told his supporters in a press conference that his campaign does not want to contribute to instability in society and thus has been committed to remaining silent and not declaring victory before the official result was announced.
Shafiq mentioned his campaign's unofficial count, which indicates that he is the winner.
"We did not announce preliminary results claiming that they are the complete results," he said, referencing Muslim Brotherhood candidate Mohamed Morsy's announcement that he had won the poll based on preliminary numbers.
Morsy's supporters congregated in Tahrir Square to celebrate his proclaimed victory on Monday.
"The media asks us to respond to the other candidate's claims, but we will not do what he did. The Muslim Brotherhood claims to have information that only the elections commission has," Shafiq said.
He added that the campaign is monitoring attempts to pressure the elections commission to announce the victory of a certain candidate, in contradiction of the principles of democracy.
Shafiq asserted that he people are the ones who choose the president, slamming media reports that he or the Muslim Brotherhood have made deals with foreign powers.
"I am sure that all the world leaders will deal with the winner, and history will not forgive any foreign power that tries to interfere in the voters' decision. I call upon all Egyptians ot cooperate for the sake of Egypt. I extend my hand to everyone," he said.
"The time for exclusion is over."
Edited translation from Al-Masry Al-Youm