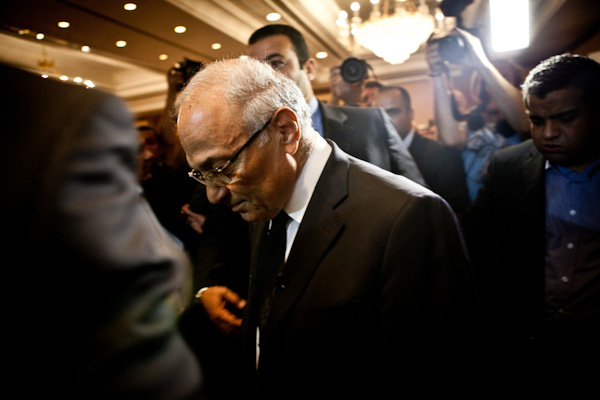 Egypt's former Prime Minister and presidential potentate Ahmed Shafiq is facing charges of violating building regulations and will be investigated on the matter within the coming hours, state-run Akhbar Al-Youm indicated on Sunday.
The newspaper, quoting high-level officials on condition of anonymity, said that the legal case is related to apartments and buildings linked to his daughters, which allegedly were built in violation of building codes.
Meanwhile, lawyer Dina Adly who is Shafiq's legal representative, released on Sunday a statement on her Facebook page in which she asserted that she has no information on Shafiq's current location.
The statement came in the wake of her previous media statements in which she noted that her client had forcibly been deported from his residence in the United Arab Emirates to Egypt after he unveiled his intent to run for the upcoming presidential elections.
In the most recent statement, she detailed the circumstances that preceded his arrival to Cairo.
"After Shafiq's declaration of his intent to run for the 2018 presidential elections, he said that he will leave for France. UAE officials informed him that a private airplane will transport him to France, but he preferred to book a flight leaving to France on Saturday at dawn. His daughters were shocked as numerous officials informed Shafiq that he is considered persona non grata in UAE," Adly noted.
She explained that these "officials" informed him that he must leave the UAE without his daughters while they told his daughters that they are welcome to stay in the UAE.
"I really do not have any information on Shafiq's current whereabouts in Egypt, he did not call me, therefore I call on the Egyptian authorities as Shafiq's official lawyer to enable me to meet him and prove that he has arrived in Egypt" she stressed.