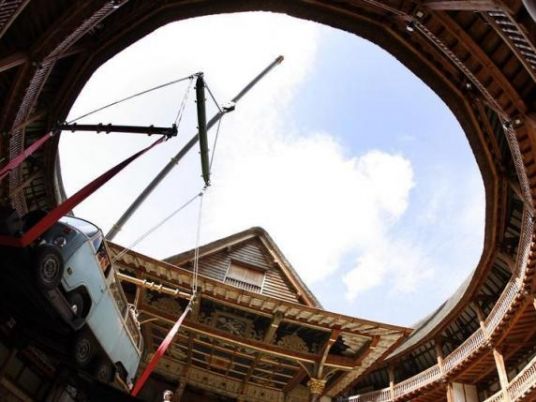 William Shakespeare's Globe theaters is taking on a new role as a financial trail-blazer by seeking to tap into a form of funding dominated to date by social enterprises and charities.
The Globe theaters on the banks of the River Thames in London is in the early stages of preparing a five million pound (US$7.5 million) social impact bond which it hopes will help finance a new library, archive and research center.
Britain launched the world's first social impact bond in 2010 to help raise funds from private investors for a program to reduce re-offending among male inmates at Peterborough Prison, 152 km northeast of London.
The aim of social impact bonds is to raise funding for social enterprises or charities directed toward creating social or environmental good with investors receiving returns if a specified performance goal is met.
There are now more than 30 social impact bonds in Britain, covering areas such as homelessness, foster care and youth unemployment.
Anthony Hewitt, the Globe's director of development, said the theaters was the first cultural organization to be considered for a social impact bond.
"It would be a good fit because we pride ourselves on our entrepreneurial spirit and we can demonstrate social impact in bringing Shakespeare to as many people as possible around the world, including many free performances," Hewitt told the Thomson Reuters Foundation.
He said the theaters, which does not receive a regular public subsidy and relies on philanthropic donations and ticket revenue, was keen to expand opportunities to raise funds.
The Globe, famous for its open-air performances, was burned to the ground during a staging of a play about Henry VIII in 1613 but was rebuilt in the late 1990s.
Kieron Boyle, head of social investment at the Cabinet Office, said investors are increasingly looking at businesses that solve a social purpose.
"The sector is growing really rapidly in a variety of areas, some in the more classic social sector, among charity and social enterprise but it's becoming more diverse than that," Boyle told the Thomson Reuters Foundation.
Young people, in particular, are keen to put their money into social investment.
A survey published in January by Britain's Charities Aid Foundation showed that 79 percent of wealthy people under 40 have an element of their portfolio allocated to socially conscious investments.
This suggests that as much as 233 billion pounds could already be invested in Britain with the aim to achieve both social and financial returns, the survey said.
Government data shows there are 180,000 small- and medium-sized social enterprises in Britain, employing more than two million people and contributing 55 billion pounds to the
economy
.
Civil Society Minister Rob Wilson said social investment had a key role to play in improving public services in Britain.
"It's pretty much part of the bigger picture for us to develop better solutions to the social problems our society faces," he told the Thomson Reuters Foundation.