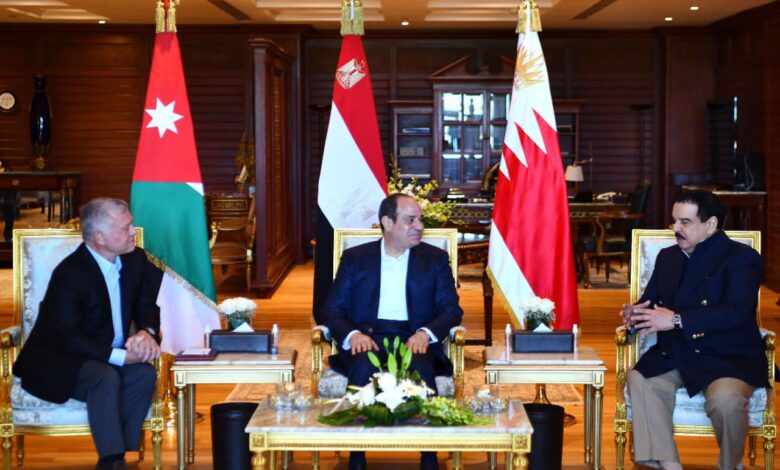 Egyptian President Abdel Fattah al-Sisi held a tripartite summit in Sharm el-Sheikh on Sunday, with King Hamad bin Isa Al Khalifa, King of Bahrain, and Jordan's King Abdullah II bin Al Hussein.
Egypt's presidential spokesperson Bassam Rady said that President Sisi welcomed the monarchs as dear guests to Egypt.
He hailed the close and historical relations binding the three countries together.
Sisi affirmed Egypt's desire to enhance constructive cooperation between Egypt, Bahrain and Jordan, in a way that achieves their common interests and enhances joint Arab action efforts – especially in light of the major challenges resulting from multiple regional and international developments.
A three-way friendship
The two monarchs praised the close ties between the three countries and assured a strong interest in cooperating with Egypt for further strategic partnerships to maximize all opportunities in their cooperative relations.
They noted that these relations are a cornerstone for maintaining regional stability and restoring balance to the region, due to the pivotal importance Egypt, Bahrain and Jordan hold regionally and internationally.
The talks dealt with paths of constructive bilateral cooperation between the three countries and the mutual coordination towards various issues of common concern.
The leaders emphasized the depth of the strategic relations between the three friendly countries, and the importance of strengthening, developing and elevating them to the highest level.
The leaders also welcomed the upcoming summit to be hosted by the Kingdom of Saudi Arabia between the leaders of the Gulf Cooperation Council countries, Egypt, Jordan, Iraq and the US.