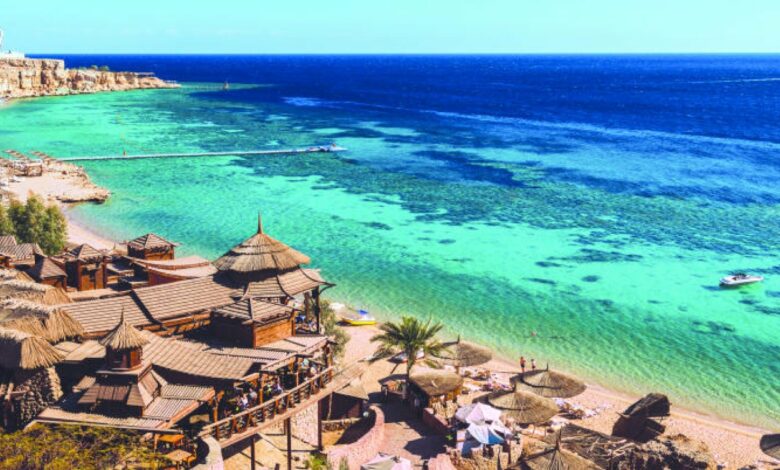 Sharm el-Sheikh was awarded Best Sustainable Tourist City in a competition with other Arab cities, South Sinai Governor Khaled Fouda announced Friday.
The competition was conducted by the Arab Union for Tourism Media, he added.
Fouda received the award in the presence of assistant general secretary of the governorate, Mohamed Shair and a number of businessmen in Sharm el-Sheikh.
Sharm el-Sheikh city successfully hosted the COP27 conference and became a green and environmentally friendly city, becoming the first green tourism city free of pollution in Egypt, he added.
Nearly 20 projects were established in just six months last year to transform Sharm el-Sheikh free of pollution, which helped promote the city as a tourist destination in the Arab world.
Fouda thanked the Arab Union for Tourism Media, for holding its annual meeting in Sharm el-Sheikh.
The Middle East's first environmentally friendly city
Fouda previously announced in October that Sharm el-Sheikh has now become the first environmentally friendly city in the Middle East, after concluding projects to develop the city before the launch of the 27th Climate Summit (COP27).
"It's only seven days to the launch of the summit, and the world will witness an Egyptian achievement and miracle that happened within five months, as 31 projects have been implemented to transform Sharm el-Sheikh into the first green tourist city in Egypt and the Middle East," Fouda said in statements to the privately-owned al-Watan newspaper.
Fouda explained that the Green Zone project in Sharm el-Sheikh was finally completed, under the supervision of the Sinai Reconstruction Authority.