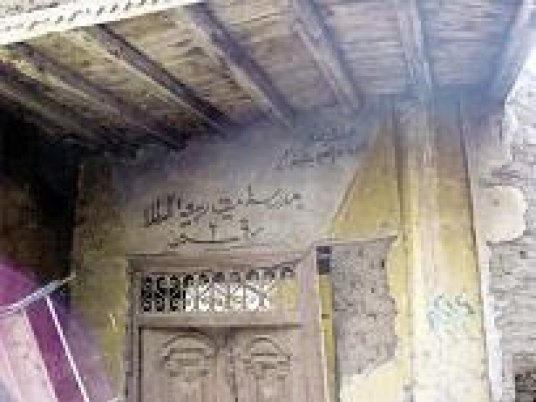 Schools here are in bad condition, complained Sharqiya residents at the start of the new academic year. They say that some buildings are in dire need of restoration and some even resemble wicker and wood huts.
Ghosn al-Zatoun school in Sharqiya's al-Salehya al-Gadida area was built by the hands of village residents, using wood and other materials. The school is affiliated to Ghosn al-Zatoun village, where about 5,000 residents live, said parent Abdel Azizi al-Batal.

The school was established on one acre of land and includes six classes, said Aziz al-Batal, adding that each of them includes about 50 students. The school suffers from many problems, most notably water cuts. School officials buy water jerrycans for LE4 each.
Resident Mohsen Rady said the parents of school children have filed many complaints with the Sharqiya Education Directorate to re-build the school and provide water.
Education Department officials promised to coordinate with the Agriculture Ministry to do a feasibility study and conduct necessary inspections on the school's condition starting this school year but have not taken any serious steps so far, he added.
The situation in Abu Khalil Primary School, affiliated with Fakous locality in Sharqiya, was not any different from that of Ghosn al-Zatoun School.
Parent Ahmed Hasan Khalil, who donated his land to establish the school, said a power line passes through the middle of the school's yard, threatening the lives of 400 pupils.
In Al-Zahraa School, affiliated with Fakous locality as well, the situation is a bit comical. The residents have to pay LE30 rent to the owner of the school's land. The school was built by the residents using wood and wicker, and faces the danger collapsing, which would threaten the lives of over 300 pupils, said resident Nagah Abdel Bary.
During Winter, Bary said the school's area turns into ponds and swamps due to heavy rain. Mohamed Hossam, undersecretary of Sharqiya's Education Ministry, told Al-Masry Al-Youm that inspectors would be dispatched to al-Zahraa School and will take necessary measures.

Edited translation from Al-Masry Al-Youm