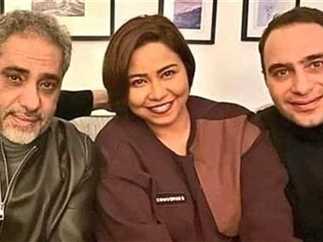 Yasser Kantoush, the lawyer of Egyptian singer Sherine Abdel Wahab, denied that his client and her husband, singer Hossam Habib, have been interrogated by the Lebanese authorities, after a photo showed both of them with wanted Lebanese singer Fadl Shaker.
On Thursday, Kantoush denied, in an exclusive statement to Al-Masry Al-Youm, widespread news about the investigation with his client and her husband.
On her visit to Lebanon with her husband, it was said that they were staying with their friend Shaker.
The lawyer stressed that she was not summoned or investigated.
Misbah al-Ali, advisor to the Lebanese Minister of Information, said on Tuesday, during a phone call to the "90 Minutes" program, on the "al-Mehwar" channel, that Abdel Wahab and her husband, obtained security permission to enter al-Helweh camp, but without mentioning that they will meet Shaker, who is wanted by the courts.
Ali added that after the spread of their photos with  Shaker, she was summoned to hear her testimony regarding her visit to a wanted person.
Sherine apparently left after submitting her testimony, and was not arrested, and no charges were brought against her as rumours might otherwise suggest. 
Abdel Wahab knows very well that Shaker is wanted pending cases in the military court on charges of killing soldiers from the Lebanese army, Ali said.