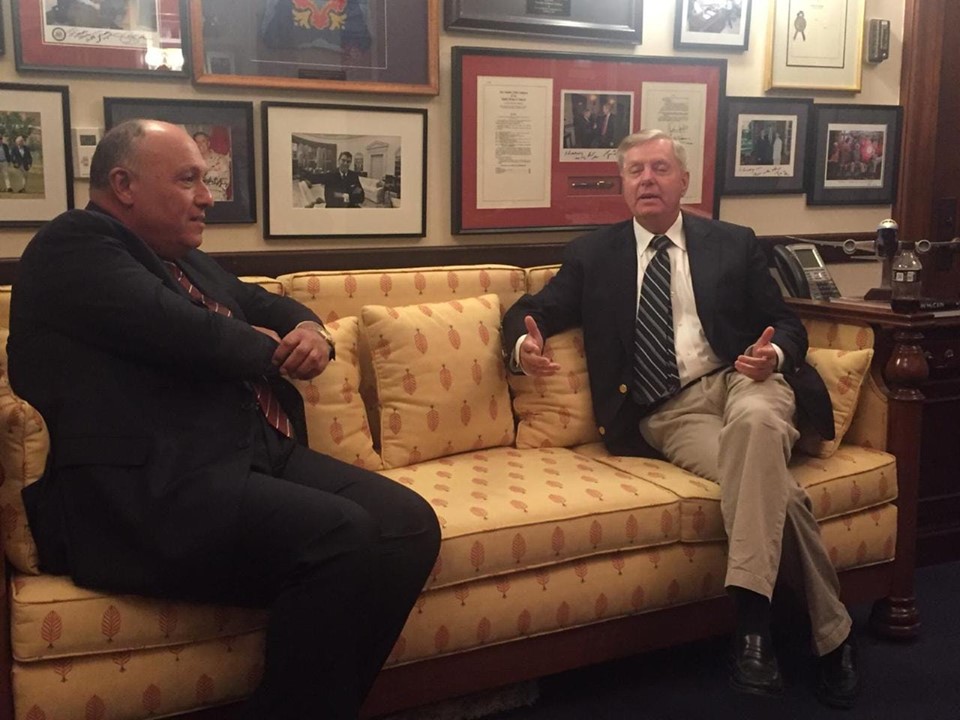 Egypt's Minister of Foreign Affairs Sameh Shokry held a meeting with Republican Senator Lindsey Graham, who is also the Chairman of the Senate Committee on the Judiciary and Chairman of the Subcommittee on the Department of the State, Foreign Operations, and Related Programs, to discuss strategic relations between Egypt and the United States and US assistance in confronting security, political, economic, and social challenges.
Spokesperson of the Ministry of Foreign Affairs Ahmed Hafez said that Shokry discussed efforts to reach an agreement with Ethiopia on the The Grand Ethiopian Renaissance Dam (GERD) that protects the interests of Egypt, Sudan and Ethiopia, asserting that Ethiopia has in the past refused the solutions that Egypt has presented.
Hafez added that Graham heard Shokry's presentation on regional developments, Egypt's proposed political solutions for various crises in the Middle East, and ways of confronting the Turkish disturbances to Middle East security
Hafez said that the meeting was held following discussions between Shokry and prominent members of the US Congress in Washington.
The United States established diplomatic relations with Egypt in 1922 and shares a strong partnership based on mutual interest in Middle East peace and stability, economic opportunity, and regional security. The United States has provided Egypt with more than US$40 billion in military assistance and $30 billion in economic assistance since 1980.
Edited translation from Al-Masry Al-Youm