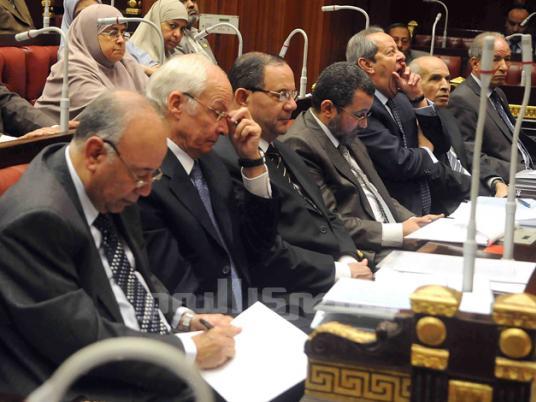 The Shura Council announced Wednesday the new chief editors of state-owned newspapers, wrapping up a controversial selection process that began more than a month ago.
The editors were nominated by the council's General Committee and approved by vote during a general session of the upper house of Parliament.
Among the appointees are: Abdel Naser Salama for Al-Ahram, Mohamed Hassan al-Bana for Al-Akhbar, Suleiman Qenawy for Akhbar al-Youm, Gamal Abdel Raheem for Al-Gomhurriya, Shaker Gamal Eddin for the Middle East News Agency, Ibrahim Qaoud for Akher Sa'a weekly magazine and Ezzat Badawy for Mosawar weekly magazine.
Salama, who will now head the state's flagship paper, angered Copts in 2010 when he wrote a column criticizing Pope Shenouda III. In his weekly column, Salama held Shenouda accountable for inciting sectarian hatred between Muslims and Christian for the last four decades.
Raheem was accused in 2009 of inciting arson after he allegedly encouraged Muslims to set fire to the homes of members of the Baha'i religious minority in Assiut the same year.
Privately owned Al-Watan newspaper suggested Eddin's ties may have gotten him the top post at MENA, the state-run news agency. The paper reported that Eddin is the cousin of Shura Council member Gamal Heshmat, who belongs to the Muslim Brotherhood.
Media outlets said the heads of around 18 publications have been replaced in the reshuffle.
A number of editors, satellite channel heads and Journalists Syndicate members issued a statement Wednesday calling on newspaper columnists not to publish their opinion pieces Thursday in protest of what they see as the Muslim Brotherhood's attempt to control the media.
They allege President Mohamed Morsy's organization is trying to exercise the same grip over state-run press that former President Hosni Mubarak's National Democratic Party once held.
They also called on satellite channels to stop broadcasting for five minutes, in the statement issued following their meeting Tuesday, ahead of the Shura Council announcement.
Participants at the meeting emphasized the need for a free press and flow of information and rejected the Shura Council committee tasked with selecting the new editors.
The attendees gave a 48-hour deadline to stop what they called the "attack" on media. Otherwise, they will call for an emergency joint meeting between the elected members of national institutions and the Supreme Press Council, a government-formed authority that oversees press affairs.
Edited translation from Al-Masry Al-Youm