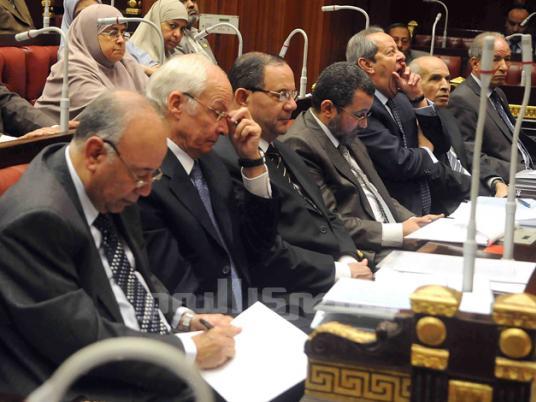 The committee that will decide on the state system of governance in the new constitution, a sub-committee of the Constituent Assembly, will start to discuss the powers of the Shura Council on Monday, including its supervision of the state-run newspapers.
Nour Party MP Tarek al-Sehry said the Shura Council had refused to relinquish supervision over state-run newspapers. He said the removal of such oversight would lead to the independence of these institutions administratively and financially from the state, which is not, according to him, in the best interest of the journalists who work for state media.
Throught the transitionary period, some state –run media employees have called for an end to the policies that existed under former President Hosni Mubarak, which gave some branches of government huge influence over the media outlets.
Sehry told Al-Masry Al-Youm that the newspapers should have an administrative authority like the Shura Council to organize its work.
He said that Shura Council members are going to submit a memorandum to the Constituent Assembly demanding the increase of the powers of the Shura Council in the new constitution.
The memorandum asks for the return the powers given to the Shura Council by the 1971 Constitution. The Shura Council's powers were significantly limited by the Constitutional Declaration issued by the Supreme Council of Armed Forces in March.
The MPs also are demanding in the memorandum that the Shura Council be granted the power to supervise the executive authority and to issue legislation, in order to assist the People's Assembly in its work.
"We want the Shura Council to have no control over the press at all and to regulate the work of press through the journalists themselves by developing necessary standards," said FJP leader and MP Sayed Hazein.
He said the current situation is temporary pending the completion of the new constitution, and the council is currently operating under the March declaration. He said that the editors-in-chief of state-run media were to have been fired, but the council decided to wait until new regulations were set and new leaders appointed.
"We do not aim to control press so that all newspapers keep glorifying our deeds like the former regime," he said. "We want to return the [press] institutions to its owners, not to the Shura Council, so as to let press be supervised by its men."
He also asked that the Shura Council be granted powers equal to the People's Assembly.
"In all countries of the developed world there are two chambers sharing supervision and legislation," he said.
Edited translation from Al-Masry Al-Youm