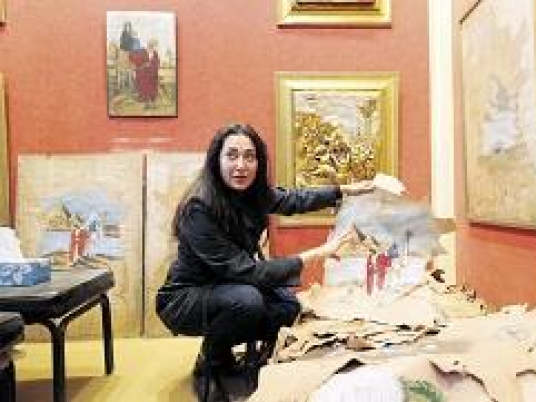 Silvia Matar is an Egyptian sculptor who incorporates religious Palestinian sites in her work.
Her art is exhibited in Fostat, Old Cairo, and represents different landmarks in Palestine, such as Al-Aqsa Mosque, certain churches and Christian archaeological sites.
Matar travels every now and then to Jerusalem to connect to her pieces.
"My works are rare and distinctive," she said "They are all inspired from the holy land."
"I decided to display my work at a private exhibition in Fostat, which is located near Old Cairo's archeological sites, like the Amr Ibn al-Aas Mosque, the Seven Churches and the Jewish Temple," she added.
Matar mentioned that she chose religious art because not many Egyptian visual artists are interested in that type of art.
She has created 33 works inspired by Bethlehem and the life of Christ until his ascension. Matar added that she has also drawn from Jewish and Islamic paintings located at Palestinian archeological sites.
Matar's sculptures include scenes with lutes, leather, papyrus and wood. She also often heads a sculpture training program for children, in cooperation with the Tourism Ministry.
The sculptor added that she is sorry there are so few tourists in Old Cairo, pointing out that she advertises at her own expense.
Edited translation from Al-Masry Al-Youm