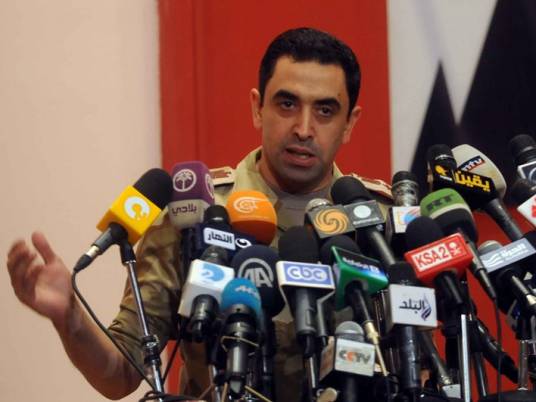 Egyptian armed forces' operations in the restive Sinai Peninsula will not run on a deadline, military spokesperson Ahmed Mohamed Ali said late Monday.
Operations will continue until the army has achieved its objectives, he claimed.
The official also stressed that the army had succeeded in eliminating a number of militant hotspots in North Sinai.
Ali said in an interview with Russia Today that armed and criminal groups grew in strength in Sinai after 30 June, forcing the army to respond and attack them.
Securing the borders is the responsibility of Egyptian and Palestinian authorities, Ali claimed, calling on Hamas to take necessay measures to heighten cross-border security.
Ali said extremists, as well as the illegal tunnels along the border, threaten Egyptian national security.