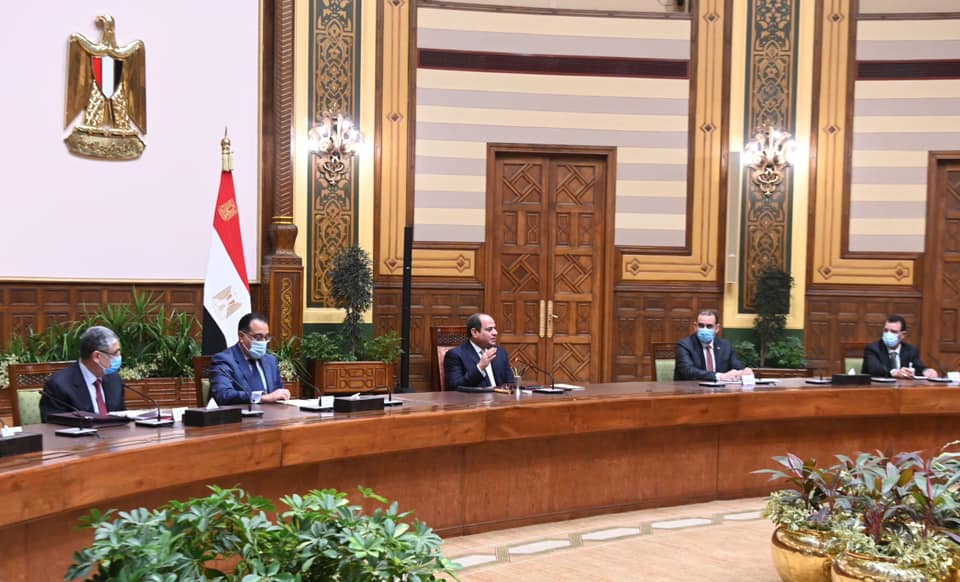 Egyptian President Abdel Fattah al-Sisi on Saturday welcomed Iraq's Deputy Prime Minister and Minister of Planning, Khaled Battal who headed a high-level Iraqi ministerial delegation.
The Egyptian residential spokesperson Bassam Rady explained that the meeting, attended by several Egyptian ministers and officials, saw Sisi stress Egypt's fundamental policy regarding its support for Iraq and its desire to help strengthen its role in Arab national security.
Sisi added that Egypt is eager cooperation with Iraq and a bilateral or tripartite level with Jordan due to the strategic importance of cooperating with these nations for the Arab world at large.
He further emphasized that Egypt is serious about fruitfully cooperating with Iraq in every field, and called for careful follow-ups to everything they have agreed upon to bypass traditional administrative and bureaucratic frameworks and work towards tangible results.
Iraq's Planning Minister meanwhile affirmed his country's appreciation for Egypt's support of Iraqi issues and its desire to enhance cooperation with Egypt – either bilateraly level or as part of tripartite cooperation with Jordan.
He added that his country is looking forward to benefiting from Egypt's inspiring successes in development projects, especially regarding housing, infrastructure, electric energy, agriculture sector and health, as well as strengthening economic, commercial and investment cooperation.
Battal valued Egypt's role in support of Iraq, as it represents strategic depth for his country both locally and globally especially in regard to confronting common challenges, chief among them fighting terrorism and achieving security, stability and development.
Rady added that the meeting saw an overview and discussion of joint cooperation projects, to further invest in all available capabilities of both nations and implement what was agreed upon during the joint Egyptian-Iraqi High Committee.