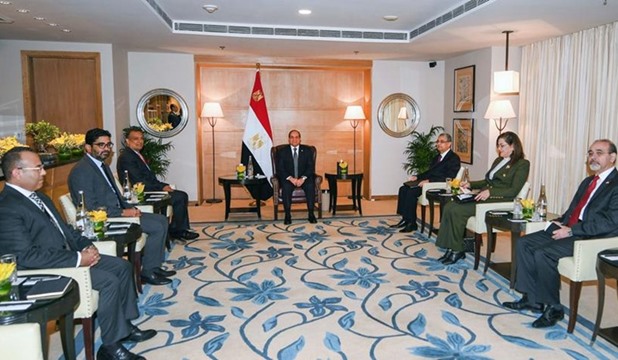 President Abdel Fattah El Sisi asserted that Egypt was deeply interested in cooperating with the India side in the field in new and renewable energy in view of its vast expertise, noting that green energy sector has gained unprecedented support by the State in order to optimize its natural resources of the wind and solar energy.
This came during Sisi's meeting in his residence in India with Sumant Sinha, Board Chairman and Managing Director of ReNew Power of India, India's largest renewable energy company with over 9.86 GW of wind and solar energy.
Sinha said he was honored to meet President Sisi and voiced deep interest by the Indian companies in cooperating with Egypt in the field of clean energy, green hydrogen production especially in view of Cairo's role in the international climate action which was vividly crystallized in Egypt's hosting of the UN Climate Conference (COP27) in Sharm El Sheikh.
He also highlighted Egypt's richness of the renewable energy sources of the wind and solar, something which qualifies it to be one of the biggest producers worldwide along with vast chances of establishing promising investments in this field.
Presidential Spokesman Bassam Radi said the meeting also covered means of cooperation between ReNew Power and Egypt as regards its current projects in Egypt for the production of energy from new and renewable resources as part of a national strategy to enhance the generation of power from clean energy sources.