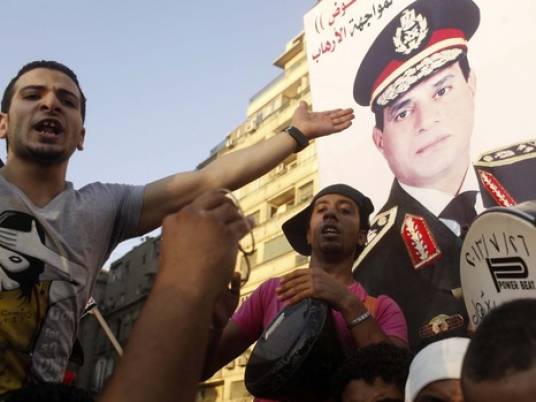 Informed governmental source said Field Marshal Abdel Fattah al-Sisi, defense minister, will attend on Wednesday his last cabinet meeting before submitting his resignation and declaring his run for presidency.
The cabinet will issue a statement to congratulate Sisi on the new rank of field marshal and confidence of the Supreme Council of Armed Forces, which left the choice for him to respond to people's desire and stand for elections, the source added.
Prime Minister Hazem al-Beblawy will start next week his talks over cabinet reshuffle that will include eight ministers including his deputy Ziad Bahaa Eddin, who submitted his resignation on Monday, and Sisi, the source told Al-Masry Al-Youm.
Beblawy said the cabinet reshuffle has become a fact after three ministerial posts became empty. The reshuffle includes merging four ministries into two. He added that Ministry of International Cooperation will be merged into Ministry of Planning and will be led by Ashraf al-Araby. Ministry of Sports will be merged into Ministry of Youth and will be led by Khaled Abdel Aziz, which will decrease number of ministries to 34 instead of 36.
Beblawy told Al-Masry Al-Youm he awaits Sisi's official stance over running for presidency and its consequences of submitting resignation to cabinet.
Some names of ministers have been selected, the governmental source added.
Interim President Adly Mansour renewed confidence at Beblawy and that he will remain in his post with most of the current ministers, the source said. Mansour requested from Beblawy to file report over performance of all ministers. Ministers who will be changed, will be identified during the talks between Beblawy and Mansour.
Edited translation from Al-Masry Al-Youm