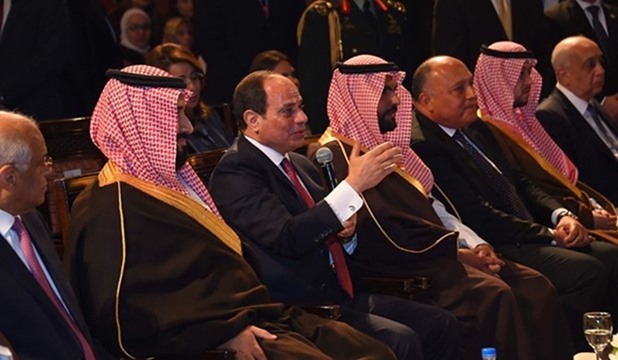 President Abdel-Fattah Al-Sisi and Saudi Crown Prince Mohamed Bin Salman attended on Monday a theatre performance at Cairo Opera House titled "Sallem Nafsak" (Turn Yourself In), presidential spokesman Bassam Radi announced.
The event was attended by Minister of Culture Inas Abdel Dayem who briefed them on the history of the Cairo Opera House and its importance in spreading Egyptian Culture, reported the State Information Service Website.
Directed by Khaled Salah, "Sallem Nafsak" is a play that aims to highlight new perceived negative trends forming within Egyptian society, especially the misuse of social media and weakening family ties.
Twenty-seven young actors took place in the performance.
The event comes as part of a three-day visit the crown prince is taking in Egypt, which kicked off Sunday. This is Prince Salman's first official visit since assuming the crown.
It also comes at a time when the crown prince seems to be reforming Saudi politics in some capacities. Saudi Arabia announced it will be building its first Opera House just 10 days ago, ending an era where Opera was banned. It is also set to open its first movie theatre after a 35-year-ban.
Cairo Opera House was rebuilt and reopened in the southern area of Cairo's Gezira Island in 1988, after Egypt's first Opera House was destroyed in a fire.
Salman's visit also included a meeting with Pope Tawadros II and an inspection of the Suez Canal.
President Al-Sisi and Bin Salman held a bilateral summit at the Ittihadeya Presidential Palace on Sunday where they signed deals, including the launch of a Saudi-Egyptian investment fund between the Saudi Public Investment Fund (PIF) and the Egyptian Ministry of Investment and International Cooperation.