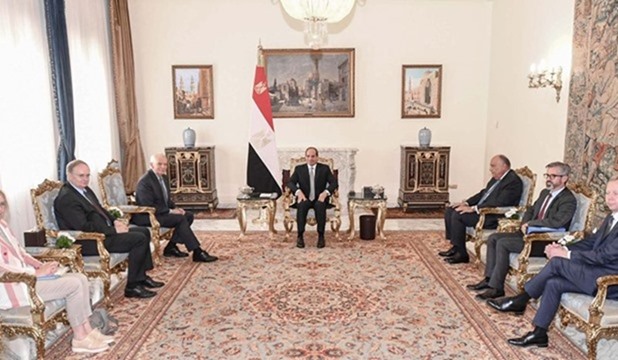 President Abdel Fattah al-Sisi has directed officials to maintain strenuous efforts to develop the higher education sector and upgrade the academic and research at universities and institutes in the country.
The education issue is so important to the state and is considered a top priority to build the Egyptian human being as per related criteria worldwide, added President Sisi at a meeting with Prime Minister Mostafa Madbouly and Minister of Higher Education and Scientific Research Ayman Ashour Monday.
The president also ordered to best benefit from the Knowledge Bank, given it is playing an important role in honing skills for graduates to meet requirements of the labor market, in addition to scaling up the research production of universities and research centers nationwide.
Presidential Spokesperson Ahmed Fahmi said President Sisi was posted on the latest developments on implementing the National Strategy for Higher Education and Scientific Research that is aiming to develop these two important sectors.
The meeting discussed efforts to develop the Egyptian Knowledge Bank to promote education and scientific research.
The meeting probed as well ongoing efforts to establish and operate more IT and Ahliya universities in the country.
The higher education minister talked about efforts to develop and upgrade efficiency of teaching hospitals and their role in providing health services nationwide.