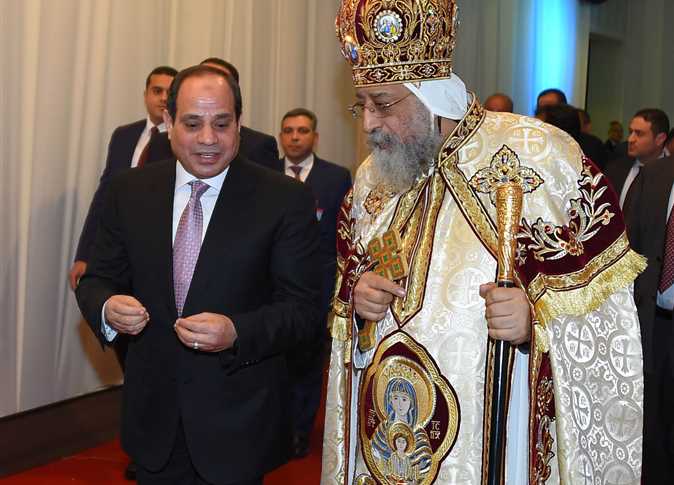 On Thursday evening, Egyptian President Abdel Fattah al-Sisi congratulated Pope Tawadros II from the Orthodox Church, on Christmas, while he attended, the Christmas mass, at the Cathedral of the Nativity of Christ, in the New Administrative Capital.
"I start my words by saying I wish you a good year, a beautiful year for all of us, a year of goodness, peace, security, mercy and grace from God," Sisi said.
"In Egypt, we started a journey together and we pledge to you to complete it together. The journey of the new republic fits all of us, so do not allow anyone to come between us," he added.
"May the Lord help me to be an honest and honorable servant of this country and to you. Egypt is the country of all of us, fits all of us and we are present in one of the houses of our Lord, the protector of the country and our protector. We pray to Him, and we hope that He completes us, protects us, and helps us to develop."
During his speech, Sisi stressed the extent of his appreciation for Pope Tawadros saying: "I would like to say, there is great respect and love for His Holiness. A man's strength is demonstrated in difficult situations and His Holiness is very appreciated for all of his efforts especially in the past difficult years.."
Pope Tawadros II presided over the Christmas mass at the Cathedral of the Nativity of Christ, in the presence of senior Egyptian statesmen, ministers, ambassadors, public figures and representatives of the media.
The Cathedral of the Nativity of Christ in the Administrative Capital, which Sisi inaugurated in 2019, is the largest in the Middle East, with a capacity of 8,200 people, and consists of a ground floor and a 60-meter-high beacon.