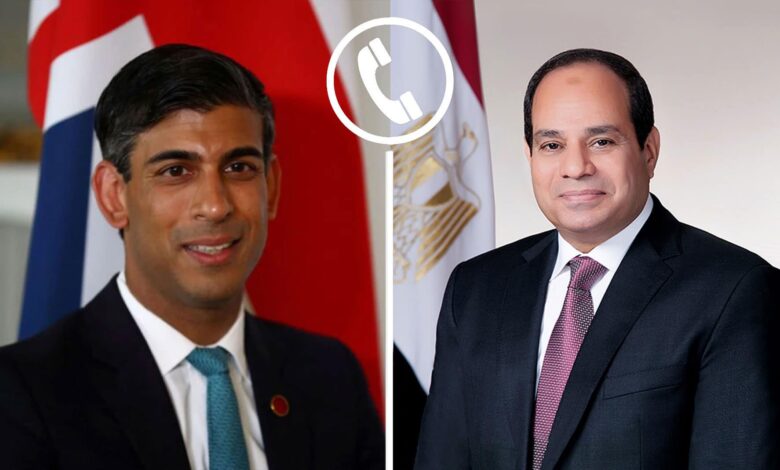 Egyptian President Abdel Fattah al-Sisi received on Sunday a phone call from the Prime Minister of the United Kingdom Rishi Sunak, where the two leaders discussed the Sudan crisis.
The official spokesperson for the Egyptian Presidency, Ahmed Fahmy, said that the call dealt coordinating efforts between the two countries regarding the matter.
Sunak noted Egypt's essential role in maintaining peace and security within the region in addition to being one of the most important active neighboring countries of Sudan.
He warned that the current crisis represents a serious challenge to stability in the entire region.
The two leaders expressed deep concern about the escalation of violence and fighting in Sudan, which exposes civilians to escalating threats. They also addressed efforts made to evacuate the nationals of the two countries from Sudan.
President Sisi also reviewed the efforts undertaken by Egypt to encourage all parties in Sudan to reach a cease-fire.
He stressed the importance of calming tensions and activating dialogue to spare Sudan the catastrophic consequences of this conflict.
Violent clashes erupted between the Sudanese Armed Forces and the Rapid Support Forces, which the Sudanese Army declared a rebel militia, in the capital Khartoum and other cities.
Sources stated that the Sudanese Central Committee of Doctors – a non-governmental body – counted the number of dead and injured as of Sunday, as the number of victims of military operations initially reached 56 dead and 595 injured.
Sudan's Rapid Support Forces issued a statement in which they assured the Egyptian people and leadership that Egyptian civilians in Sudan are safe.
The RSF statement said that they are ready to hand Egyptian citizens over to their leadership as soon as the security conditions calm down.
It announced earlier in April that they had taken control of some headquarters and strategic locations in the capital and the states.