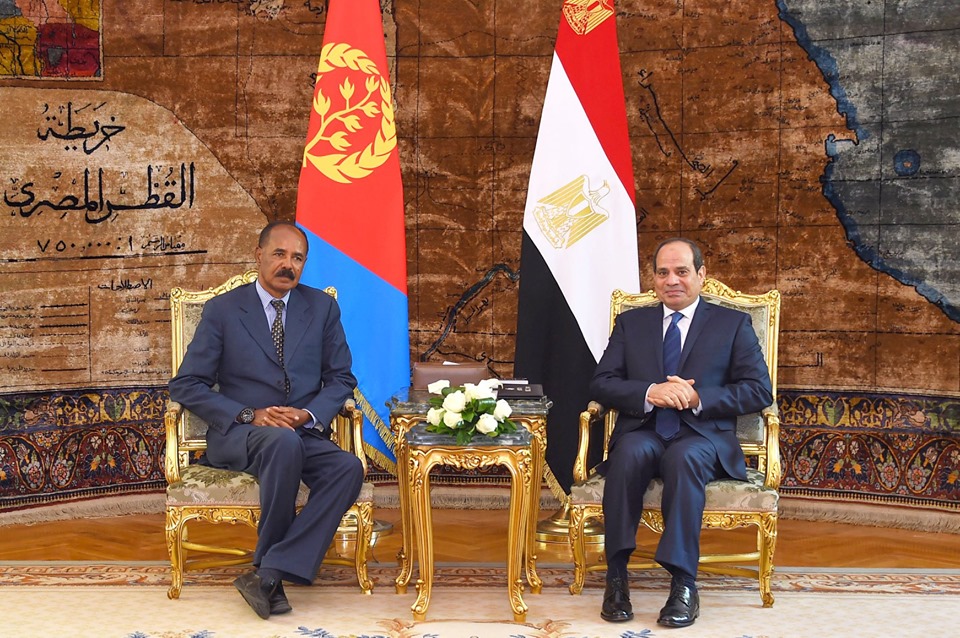 Egyptian President Abdel Fattah al-Sisi held talks on Saturday at the Ittihadeya Palace in Cairo with Eritrean president Isaias Afwerki, discussing relations between the two countries and the developments within the Horn of Africa.
Egypt's Presidential Spokesman Bassam Rady said in a statement that Sisi appreciated the close historical relations between the two countries and the joint cooperation, views and strategic interests that bind them.
The President confirmed Egypt's keenness for these relations to continue with the same strength and distinction.
In addition, he wished to reinforce strategic cooperation with Eritrea across different fields and establish a sustainable partnership between the two countries at the bilateral level, alongside close cooperation on issues pertinent to the region and the African continent, particularly in light of Egypt's current chairmanship of the African Union.
Sisi stressed the importance of moving forward with crystallizing specific plans to develop cooperation between the two sides across various sectors and overcoming all obstacles in this regard, particularly in the infrastructure, electricity, health, trade, investment, agriculture, livestock and fishery fields.
This is alongside intensifying technical support programs offered to the Eritrean side through the Egyptian Agency of Partnership for Development (EAPD).
On his end, President Afwerki expressed appreciation for the pivotal role Egypt playing at promoting the developmental process and maintaining peace and stability in the African continent, confirming the deep and close historic relations that bind the two counties.
He further appreciated Egypt's positions to realize stability in the Horn of Africa, which reflects on Egypt's great support to Eritrea in the past period, such as the lifting of international sanctions on Eritrea after reconciling with neighboring countries.
Rady said that the meeting touched on the latest regional developments, where both sides agreed to continue cooperating on these developments, particularly in regards to issues related to the Horn of Africa, Sudan, Somalia as well as Nile water and the Red Sea security, in order to bolster the region's security and stability.