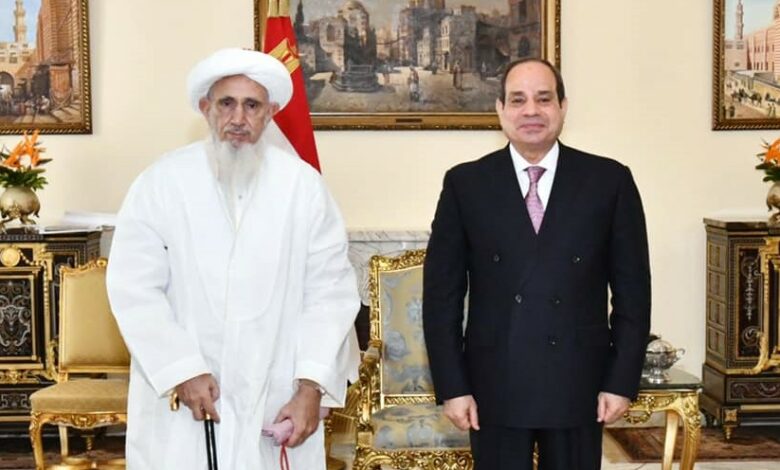 Egyptian President Abdel Fattah al-Sisi expressed his sincere appreciation towards Sultan Mufaddal Saifuddin, Sultan of the Bohra sect in India, for helping to restoring the shrines if Ahl al-Bayt (family of the Prophet Muhammad,) and several historical Egyptian mosques.
This came during Sisi's reception on Sunday of the Sultan of the Bohra sect in Cairo, accompanied by his sons Prince Jafar al-Sadiq, Prince Taha Mufaddal, and Prince Hussein Mufaddal, in the presence of the head of the Egyptian General Intelligence Service Abbas Kamel.
Egyptian presidential spokesperson Bassam Rady said that President Sisi welcomed the sultan, noting the close historical ties between Egypt and the sect.
Rady said that the last restoration commissioned by the Sultan of Bohra was of the Sayyida Nafisa, Sayyida Zainab, and al-Hussein shrines, in addition to various other charitable activities in Egypt such as supporting the Tahya Misr Fund (Long Live Egypt Fund).
The spokesperson added that efforts to restore these shrines complement current state efforts to develop the areas surrounding these shrines and archaeological areas in Fatimid and historic Cairo.
President Sisi affirmed Egypt's deep belief in the importance of dialogue among all people of the world no matter their beliefs or heritage, and Egypt's constant openness to all faiths based on its ancient history.
Sisi also reviewed the work done by his government to promote the proper principles of citizenship on the basis of equality, peaceful coexistence, freedom of choice and belief.
The Sultan of the Bohra sect in India on his end expressed his honor to meet President Sisi.
He praised the current path that Egypt enjoys under its current leadership to practice religious rites, and peaceful coexistence between all sects, which guarantees for all a stable climate of social peace.